Leaving Wuxie, followed by a two-hour hurry, and finally arrived at Shaoxing Xianheng Hotel at 6pm.
The style of the hotel is new Chinese, and there are a lot of eye-catching places.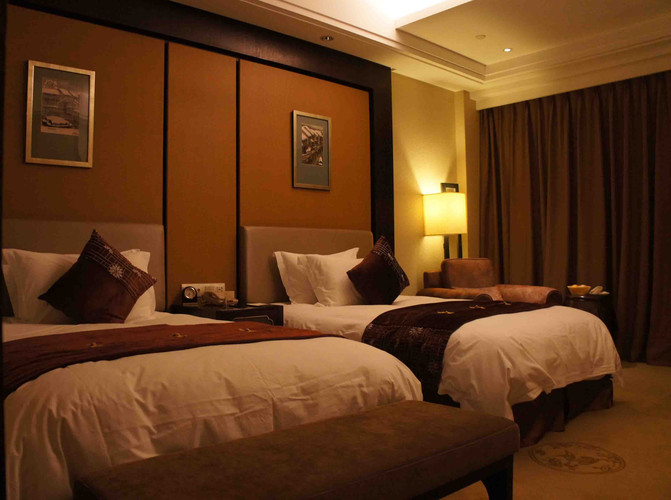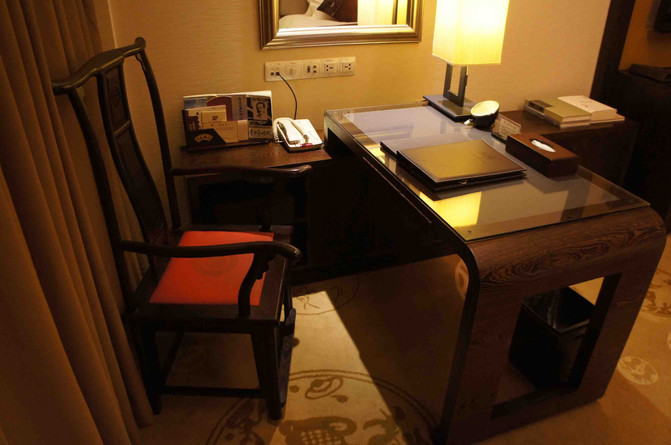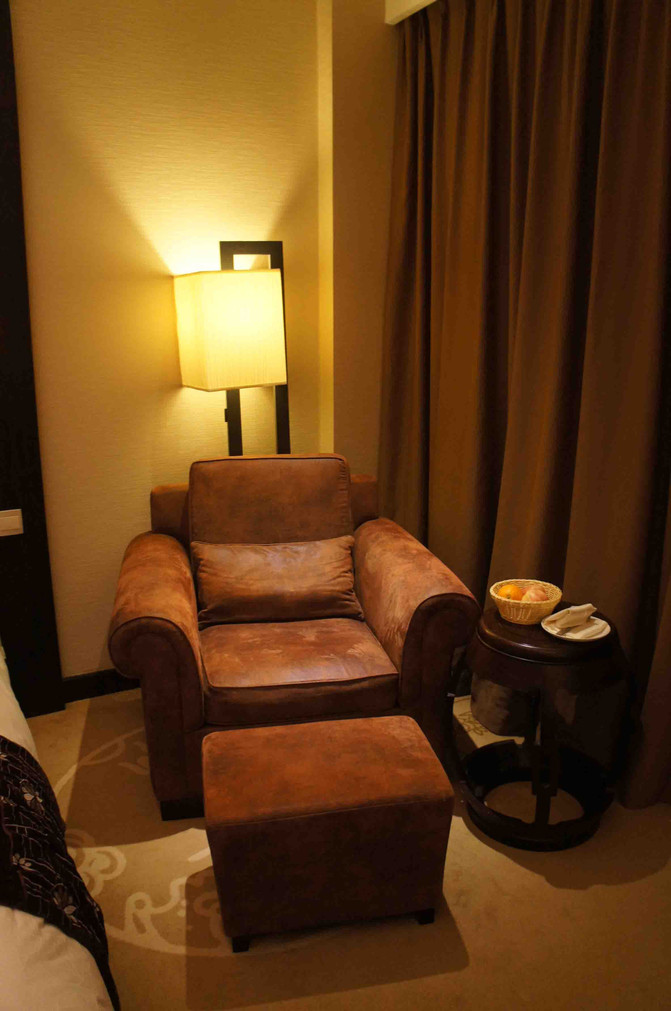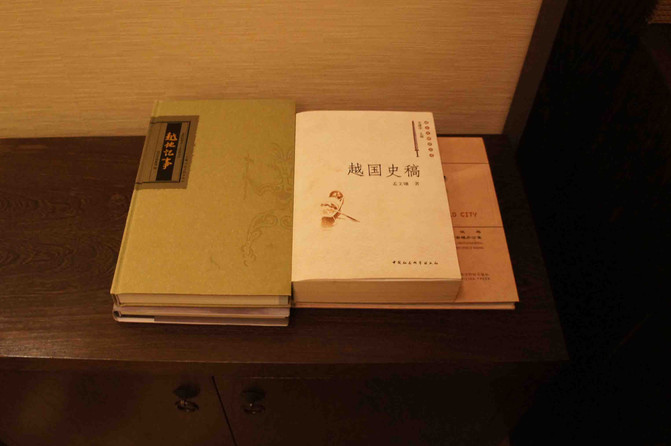 (Top four pictures: Chinese-style rooms)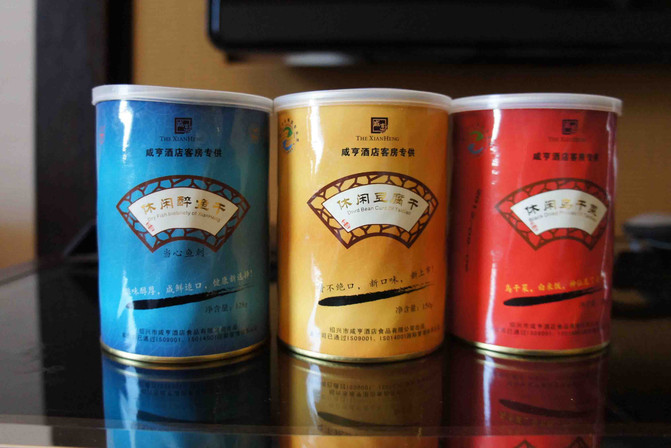 (Above: the hotel's special snacks)
(Above: a jar of rice wine was found in the freezer of the guest room, which is a characteristic "drink" of Shaoxing)
(Above: there is a plate of fennel beans on the doorplate of the guest room, and the fennel beans in each room are different in size, which is interesting)
(Above: night view of the courtyard of Xianheng Hotel in Shaoxing)
[Dinner at Xianheng Hotel Shaoxing]
Chinese food at Xianheng Hotel has been introduced several times on food shows. The host's "Uh ~" "Wow ~", with intoxicated expressions, and those beautiful words, let us look forward to this gourmet experience.
Here, like Da Shi Dai, you first buy a prepaid card and then consume it. Many dishes are also heated up in the microwave ... Hey, not a big stall ... Well, when it comes, let it be safe. Although the dish is really not appetizing, most diners are like us. Before moving the chopsticks, they still took a wild shot of those dishes and bowls ... Hehe, why, you go back home.
(Above: outside restaurant of Xianheng Hotel Chinese Restaurant)
(Above: the restaurant at Xianheng Hotel)
(Above: the front desk of the Chinese restaurant in Xianheng Hotel, you need to buy a card first)
(Above: menu)
(Above: a sighing dinner)
(Above: Kong Yiji's favorite)
Woke up naturally on the fourth day, and the buffet was not amazing, and my appetite was greatly diminished. It seems that in the future, if you stay in a hotel in the downtown area, you should cancel the double breakfast and go to the street for food.
(Above: tired of the buffet breakfast, and finally returned to porridge with salted duck eggs)
[Luxun Hometown]
A few minutes' walk from the Xianheng Hotel to the east is Lu Xun's Hometown Scenic Area. I didn't expect it was near the horse.
Lu Xun's hometown is free to visit, but there are several popular attractions (such as Sanwei Bookstore) that still require admission by ticket. The ticket collection office is located at the tourist service center at the main entrance of the scenic spot, about a hundred steps away from the Sanwei Bookstore.
There was a scalp entangled in us, peddling the tickets that were free for the first time. The opening cost was 10 yuan, and it was said that it would take a long line to get the tickets. Too underestimated that we drop IQ. Ignored her, but it took less than 10 minutes. Of course, if the serpentine team is too long, it is estimated that someone will be willing to "bleed".
(Above: the entrance to Lu Xun's hometown)
(Above: free tickets)
Many of the Lu Xun Memorial Halls, like us, deliberately drag their children to receive "education". As a modern Chinese writer, Lu Xun's works will always accompany them from elementary school, junior high school to the college entrance examination ... take a little time to understand the life of Lu Xun, it will be somewhat helpful to understand Lu Xun's works.
(Above: there are so many pen names for Lu Xun)
The most interesting aspect of the Sanwei Bookstore is the "early" character carved on the desk by Lu Xun, which also has a very good inspirational story. It is a pity that today tourists have been blocked out of the wooden grille and can only watch from a distance, but they can no longer be as close to appreciate as they were even a dozen years ago.
(Above: Lu Xun's seat in Sanwei Bookstore)

[Xianheng Hotel]
Back at the hotel, there was another crazy shoot.
(Above: LZ saw this photo before making up his mind to book this hotel ...)
(Above: there are also awnings here)
(Above: the courtyard is full of scenery)
【Lanting】
Due to time constraints, Yuyao had to be reached that night, so Lanting in the west and Dayu Mausoleum in the south could only choose one. After some weighing, we finally chose Lanting. Going to Lanting, you can let the children receive a baptism of calligraphy. I hope that from now on, "characters have wind, bones and soul, and language teachers are happy", huh, huh.
Lanting tickets are 40 yuan, and you can buy joint tickets. However, there was a small surprise. We originally bought three adult tickets, but the ticket clerk proposed that the child was half a ticket, although she had already exceeded one and a half! In fact, yes, people can enjoy half-ticket treatment for students.
(Above: Lanting ticket information)
Although the Lanting Forest Park is large, the "Goose Monument and Lanting" as the protagonists are very close to the entrance. The climax comes early. In Goose Pond, LP and the children argued over the "Ying Ge", one said "Goose, Goose, Qu Xiang Xiang Tian Ge", and the other advocated "Curved Neck to Tian Ge", hehe, what do you say .
It takes more than an hour to play several main attractions in Lanting.
(Above: Lanting)
(Above: eighteen cylinders in Linchi, the modeling pen is also good)
(Above: a lake in Lanting Forest Park)
(Above: the water village style of Lanting Commercial Street)
[East Lake]
Lanting to East Lake, from west to east, also only took about half an hour by car. Three races in a day, this is indeed the advantage of self-driving.
Shaoxing East Lake is naturally not comparable to the "vast" Wuhan East Lake. Its scale is at most similar to the artificial lake in our city park, but it is naturally formed.
Personally, I think the best way to play is to go in by a canopy boat and swim slowly on foot. The boat tour can take you into some "mysterious cave days" that are not accessible on the trails, so it will also bring you incredible audiovisual enjoyment ... Boats entering Taogong Cave and Xiantao Cave, such as sitting on a well to watch the sky; Bitan Rock Shadow, Konggu Chuan Sound, the scenery is particularly amazing (the little girl shouts at your sister here, very enjoyable). If you have a slight claustrophobia, then you will definitely be able to play even more.
(Above: the wishing card of Donghu Park, very straightforward, very practical, haha)
(Above: the frog at the bottom of the hole in Taogong Cave)
(Above: the stage of the social drama, unfortunately it was late, and the work ended at three o'clock)
(Above: the "duck array" on the park exit aisle, one for 50 oceans)
[McDonald's game]
McDonald's for dinner. Bought three packs of French fries to play with stacked French fries tower. This time there are 26 layers stacked, which is a few more layers than when I was in Macau last time. There are also guesses about the length of fries, his wife beat JJ 3: 0, let the children feel discouraged, huh, huh. She didn't know that although it was a game, the "thirty-six scheme" was everywhere.
(Above: potato tower under construction ...)
to be continued……
【Night to Yuyao】
Leave Shaoxing and drive straight to Yuyao Yangming Hot Spring Resort, about 1 hour away. Yuyao has a bayberry festival every June, and it was the best.
After moving into the villa, drag the family to swim. The large swimming pool, our family alone, is a bit embarrassingly luxurious. However, in the end, JJ had to end early because of an unexpected nosebleed.
Yangming Hot Spring Villa, with a blue and white porcelain theme of Yishuier, children's porridge is incredible.

(Above: children's favorite blue and white porcelain in the rooms of Yangming Hot Spring Villa)
(Above: blue and white porcelain bus on the parking lot)
(Above: blue and white porcelain lamps in cafeteria)

Fifth day Today is the last stop of our journey. Don't think about tomorrow's things, and enjoy this last day.
(Above: the courtyard of Yangming Hot Spring Villa)
(Above: guest room balcony)
【Yangming Hot Spring】
After learning the lessons from Riyuegu last year, I decided to check out first, and then enjoy the hot spring time without worries, but ended up doing something else. Check out at 11:30 (when I was on the old guide), but the hot spring was only open at 12:00 ..... Waited half an hour in the lobby bored.
(Above: entrance to the hot spring)
The spa area is on the ground floor of the hotel. There are several pools indoors, most of which are outdoors. There is no need to take a shuttle bus like Xiamen Riyuegu, it is more convenient.
In these hot springs, I always want to sneak in DV. However, this time I just changed the Samsung Note 2 and tried out the camera and photography effects. So, under the eyelids of the waiter, there was an unscrupulous panic, huh, huh.
There is also an episode where a young couple with their one-year-old son "occupied" the small fish pond as soon as they entered. We have soaked in a circle for an estimated more than half an hour, they have not come out. What if it starts to rain? Discuss with your daughter and decide to wait. So, "cats" came down in a pool opposite Xiaoyuchi where they could be seen ... About 10 minutes later, the young mother finally came out with her son ... NM, finally our turn, Rush, lest someone be interrupted by another team, huh, huh.
There are not many ponds in Yangming Hot Springs, but because we came early, we didn't feel the dumplings, and I felt soothed.
(Above: the male guest's indoor hot spring, nobody is actually making a bubble! LP said that the female guest's layout is the same as the male guest's, but everyone is full)
(Above: hot spring area, overlooking the tea fields. Tao Yuanming is here, I must like it)
(Above: the small fish pond, that is, the fish is a bit smaller and will be full in a while)
[Haitian Yizhou]
It's finally time to go home. Through the artificial island service area of ​​Hangzhou Bay Bridge-"Haitian Yizhou". The viewing platform is 50 yuan / person, but unfortunately the fog is too great to see any scenery.
(Above: service area of ​​Haitian Yizhou)
At night, we drove into the glorious downtown, Shanghai, we are back ... This article is reproduced by the editor of this website. The purpose of reprinting is to convey more information. It does not mean that this website agrees with its views and is responsible for its authenticity. If you are involved in the content, copyright and other issues, please contact this website within 30 days, we will delete the content as soon as possible! The copyright of this article belongs to the original author, and the content is the author's personal opinion. This site has the final interpretation of this statement.