Sitting in Ningbo's Yuewan Park was boring and boring. I didn't know where to go. Suddenly I remembered a friend who had moved to Shanghai for many years, but his ancestral home was Ningbo. So I called to ask where I should go in Ningbo. He happened to be with his grandmother, so on the phone, I heard an old voice saying: Qita Temple, of course Qita Temple, how can I go to Ningbo without going to Qita Temple? !! That was the introduction of an old man in his nineties, so I immediately got up and ran to the Seven Pagoda Temple.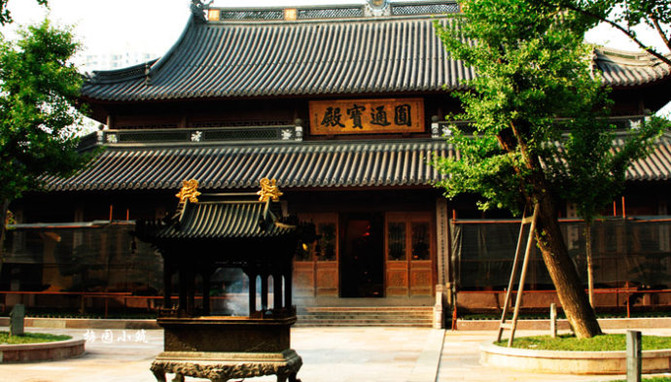 When I arrived at the Seven Pagoda Temple, it was already evening, and the sun was shining softly on the top of the temple, exuding holy light. Because it was under maintenance, even the tickets were saved. Nuoda 's palace was piled with various building materials, making the already crowded temple even more messy. Even so, maybe, It was just the time for evening classes, and the voices of chanting were still echoing in the temple, washing people's souls. I remember in Tibetan areas, usually, the temple is separated from the lay people 's residence. I do n't know if this is to make people think more deeply about the Buddha, or if they are worried that the Buddha may be infected with the mundane atmosphere. And the antique in front of it, the angles are flying, and the momentum is majestic, which contrasts with the modern high-rise buildings in the surrounding streets, which is really a quiet Lan Ruo in the downtown and unique. But looking out from the top of the eaves, all of the modern buildings that are emerging one after another are still somewhat degrading.
There are many precious cultural relics in the temple: the stupa of the Tang dynasty, the bell of the Song dynasty, the wood carving of the Ming dynasty, the Tibetan scripture engraved on the Qing dynasty and the five hundred Luohan carved in stone. Sitting there one after another, I worshiped sincerely and donated the negative ticket money.
For more articles and pictures, please follow the Sina blog http://blog.sina.com.cn/u/3315100383 and Weibo @ 梅园 小筑 2013
This article is reproduced by the editor of this website. The purpose of reprinting is to convey more information. It does not mean that this website agrees with its views and is responsible for its authenticity. If you are involved in the content, copyright and other issues, please contact this website within 30 days, we will delete the content as soon as possible! The copyright of this article belongs to the original author, and the content is the author's personal opinion. This site has the final interpretation of this statement.