At the end of the National Day holiday, I took a trip to Ningbo by high-speed rail transfer.
With the high-speed rail, the distance between cities that were far away in the past is getting closer. Hefei to Ningbo high-speed rail only takes 3 hours and 40 minutes, and the train runs for 6 hours, much faster than before. There are many stops in the middle, which indicates that the area around Jiangsu and Zhejiang is prosperous, with frequent personnel exchanges, many important stations, and naturally many stops.
Arrive at Ningbo Station at 7pm. Compared to the tragic situation of waiting for two hours at the Hefei Railway Station, the treatment here is much better. The taxi waiting area is well-ordered. The four management staff maintain order. Although the waiting queue is long, it is very efficient. It took more than 10 minutes to wait for the rental.
Drive for 3.8 kilometers and reach the 7th Days Inn Tianyi Square Second Store. The hotel is near the Gulou subway station, Xinhua Bookstore is upstairs, not too far from Tianyi Square and Chenghuang Temple. Price increases during the National Day, 207 yuan a night, without breakfast.
Take a break and go down for dinner. Downstairs there is a "lao niang", which is a chain store. Some are similar to "real kung fu", but most of the dishes are home-cooked dishes that Jiangnan likes, such as dried pork with sauerkraut and fried chicken with edamame. They are very suitable for our taste. The weight is slightly more than the real effort. I hope they will open to Shenzhen as soon as possible, and also give us an extra place to eat.
After dinner, we turned around Kaiming Street, Yaoxing Street and Luozha Street.
Walking along Kaiming Street, I have the feeling of walking in Taipei. The traffic on the road is good, clean and tidy; the buildings on both sides of the road are not tall, but the ground floor is crowded with shops; there are many people shopping, but they are not crowded. There is a business atmosphere that is both prosperous and not too noisy.
All the way south, walking to Chenghuangmiao Pedestrian Street, it was almost nine o'clock. Master Chenghuang and the businessmen in the temple were about to snooze, took a quick glance and went out through the back door. As soon as I looked up, a colorful glass-like tower appeared in front of me, with the dark sky as the background, the clouds covered the full moon facing away, and the sparse bamboo leaves swayed and lined. "The town demon tower" can not help but give birth to a bit of awe. After reading the introduction, this tower is called "Tianfeng Tower". What was sealed underneath?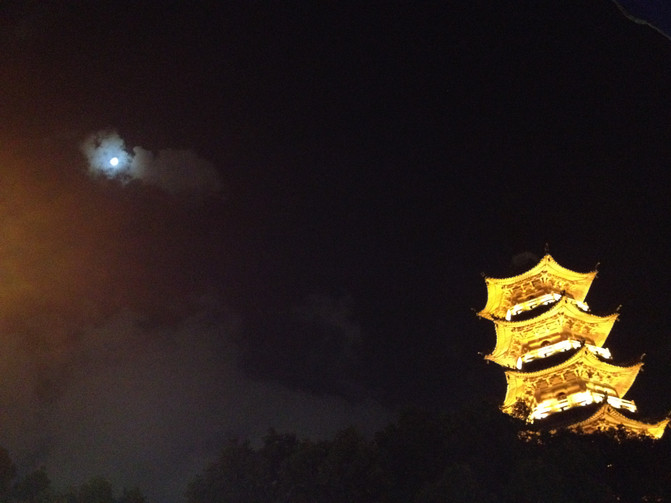 Tianfeng Tower Night: So glorious but still feel cold

The street in front of Tianfeng Pagoda seems to be a food street with snack shops along the way. When I saw a "bombing squid", many people lined up. In line with the principle of "the longer the line, the more delicious", also joined the team. I found that it turned out to be deep-fried squid, but it was big, especially large, bigger than the face, and longer than the face. The taste is relatively light, the squid is fresh, and it is still a little greasy at the end. But the "big" one alone, a single point of breakthrough, also brought them good business. Also, the boss is very handsome, huh, huh.

Bombing Squid: Compare it to your hand and see the size

Before walking far, the leader of the family found another cathedral. The exquisite Gothic architecture exudes a gorgeous and serious atmosphere under the light. The leader jokingly said that there are any great monsters around here, and a town demon tower is not enough. Will there be another Church of Heaven? Another weird thing is that the church downstairs seems to be a big mall. . . . . Is this a church property?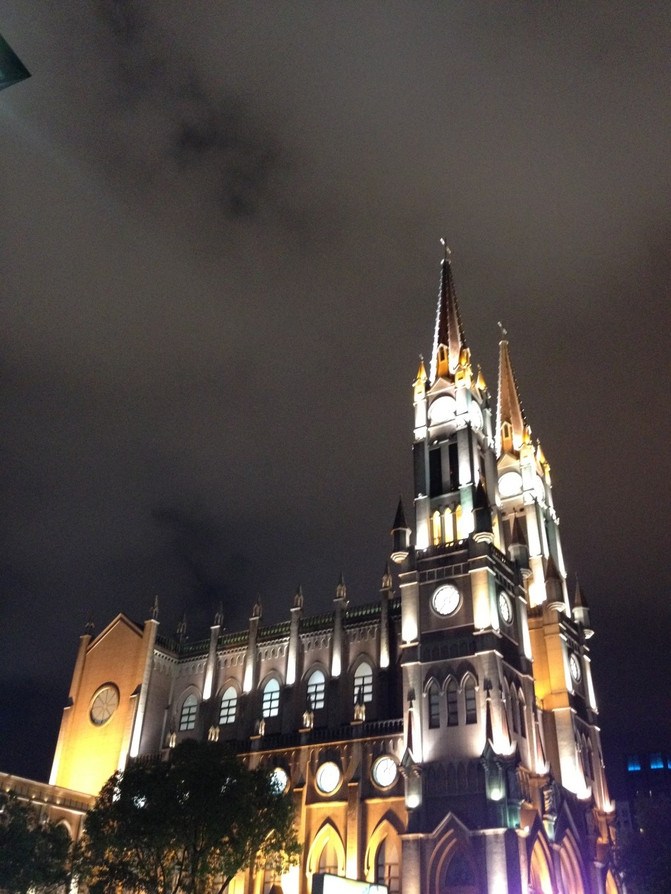 Tianyi Church Night: Western Immortals Also Come ~~~

Next to the church is the famous Tianyi Square. We have visited the civic squares and commercial squares in many cities. Tianyi Square is a successful combination of landscape, leisure and business. Surrounded by 22 European-style modern buildings, they form a huge central square and landscape waters. There are trendy cutting-edge brand shops for shopping. There are various types of restaurant stalls from sea and land meals to Ningbo snacks. Starbucks, dessert shops, and milk tea shops can be found at small restaurants.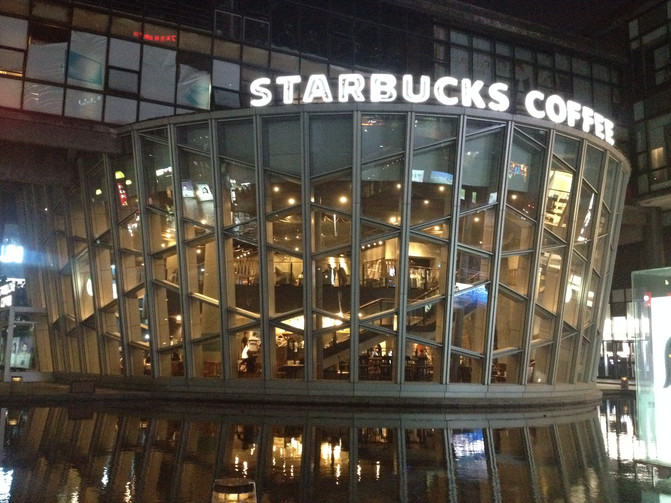 Starbucks at Tianyi Square: Built by the water, its own scenery

I saw Ningbo's long-established snack brand "cooked duck dog" at the third door of Tianyi Square. There was a duck and a dog standing on both sides of a crock in the door. I really want to try their new durian dumplings. After having dinner, I got a huge squid again. There is no room in the stomach.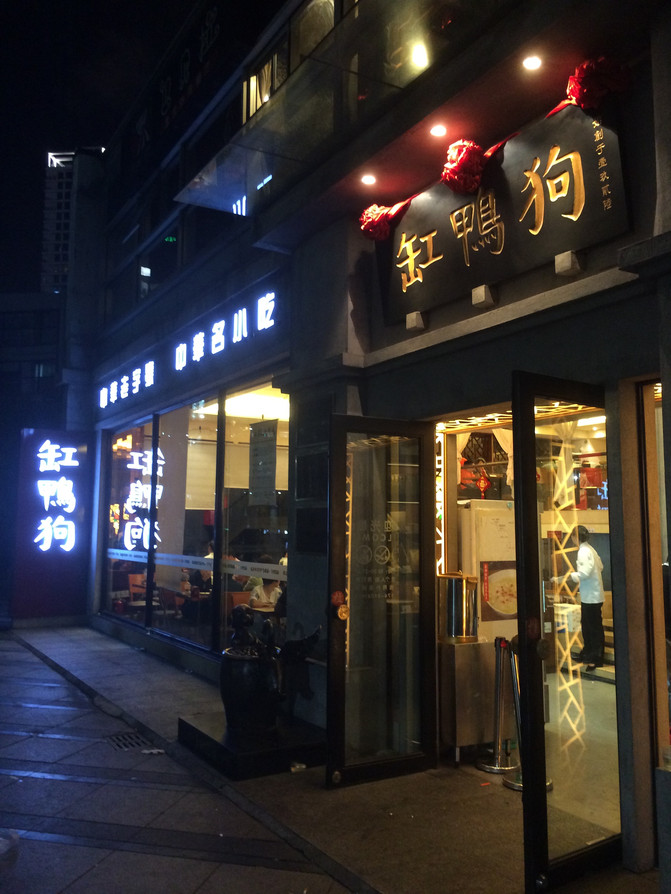 Laodian Cangya Dog: According to legend, it was created by a person named "Jiang Agou".

----------------------------------------------
On the second day of Ningbo travel, due to the National Day holiday, to avoid the crowds, we did not choose famous attractions such as Fenghua Xikou and Putuo Mountain, but continued to visit the city.
In accordance with our leisure travel conventions, it is time to sleep in the morning. I got up at 10:30, packed myself and went straight to Tianyi Square. For lunch, we chose Sushi Express. We have eaten fresh in Taiwan and Hong Kong, and we are very impressed with this good sushi restaurant. Hong Kong's pricing is HK $ 7 per plate plus 10% service charge. The Ningbo store is 6 yuan per plate without service charge. Ningbo is a city rich in seafood, and we look forward to it. However, I was slightly disappointed. Perhaps it was to take care of local tastes, adding some marinated varieties and desserts. The freshness and taste of raw fish were unsatisfactory, and there were fewer varieties of sushi. Even during the National Day holiday, there was no long queue of freshmen in Hong Kong outside the door. We were not the only ones who wanted to be dissatisfied.
After lunch, go and take the subway that Ningbo opened soon. Although it is a holiday, the subway is not crowded, perhaps because the line is not long and there are not many people taking it. Get off at "Ximenkou" and head to "Tianyi Pavilion", the most famous scenic spot in Ningbo.
Tianyi Pavilion is the private library of Fan Qin's family in the Ming Dynasty. In ancient China, the bureaucracy was a bureaucratic system, and senior national officials, regardless of their positions, were first and foremost civilians. After retiring from the senior official to the Deputy Minister of Defense, he returned to his hometown in Ningbo and built a large house next to Yueyue Lake. Because of the love of collecting books, the collection of books, and the importance of preservation, the oldest private collection of books in China has been formed.
Tickets for Tianyi Pavilion are 30 yuan, there are group purchases for reviews, and 26 yuan per person. The area is not small. In addition to Fan's old building and Jiangnan's small garden, there are also new buildings that were later added. Some of the old houses and family shrines of large families are also caged in. The price is quite good.
The main building of "Tianyi Pavilion" is a low-key and inconspicuous wooden building. There is a small and elegant garden in front of it. The green pond is surrounded by rockery, rattan and weeping willow in the shape of "Nine Lions and One Elephant", and there is a gazebo on the right. The scenery cannot be compared with the famous gardens in Suzhou, but the ancient books in other people's buildings can't be treasured. But now the ancient books are stored in the tightly sealed protection hall, and the "Tianyi Pavilion" has become a silent empty building.
Fan's little garden: a delicate and dynamic Jiangnan garden, one step at a time
The natural thing that impressed me the most is not the loneliness of this book, but the brilliant Qin Family Temple. This ancestral temple during the Republic of China (1923--1925) cost 200,000 silver dollars to build. What is 200,000 silver dollars? "Lu Xun's Diary" records that in 1924, Lu Xun bought a courtyard house in Beijing for 800 yuan. There were 3 south houses, 3 main houses, a small box house, and a small garden in the back. The house is a bit old. Lu Xun spent less than 200 yuan on the ocean and renovated it. He also bought some simple furniture. So 200,000 silver dollars is really a huge sum. No wonder, from the western-style dome of the stage to the carved beams on the roof, gold and silver are painted heavily, dazzling. The relief on the side of the eaves wall is vivid and exquisite. Such Seiko is now invisible.

Qin's Ancestral Hall: The dome of the stage is actually western-style, and it is such a luxurious and dazzling golden dome.

Tianyi Pavilion came out, not far away, is the Moon Lake. Yuehu Lake is an artificial lake in the central area of ​​Ningbo. It was excavated during the Tang and Zhenguan years. Later the Song Dynasty built pavilions, embankments, and bridges around Yuehu Lake, and gradually became a garden of scholars and elegant people. I rented a pedal boat at the pier and slowly walked along the lake. Moon Lake is small, but the scenery is good. People are enjoying leisure time by the arch bridge and by the willow. There are five or six pairs of wedding photos alone. In addition to the bride and groom, there are also groomsmen and bridesmaids. There are also a bunch of COSPLAY little girls and boys who are making micro-movies, wearing decent costumes to perform love and hatred in the red and green willows, which is really interesting.

Moon Lake rafting: pedal a boat to go back and forth for ten minutes, don't rent an electric boat to pollute the environment

COSPLAY by Moon Lake: Miss, oh, miss, how do you treat others?
A 20-minute walk from Yuehu to Gulou. Gulou was called Haishu Tower in the ancient times, and now the central area of ​​Ningbo is also called Haishu District. In ancient times, the Drum Tower was the south gate of Ningbo (Mingzhou), which was used for reconnaissance and observation. Later, the city expanded. The area from north to east to the riverside formed the center of the city. The style of the Drum Tower is quite weird. Below is a typical Chinese-style city gate. Above it, it is a Western-style bell tower, a typical Chinese-Western mixed.

Drum Tower: It seems that the old man in a Chinese gown wears a Western-style judge's wig.

There is a snack street to the north of Gulou. Many "bombing squid" can be seen here, but the one next to McDonald's Takeaway seems to be particularly popular, with longer queues, larger squids, and higher prices, $ 18 each. It's a pity that we are in a hurry for dinner and we can't afford to line up. I walked through an alley and saw another "Yan Zanzi" (that is, a small twist). The queue was longer and my heart was unbearable, but I couldn't wait and left reluctantly.

Unforgettable You Zanzi: That long line. . . .

In the evening, we went to eat a local restaurant recommended by a friend, "Tie Ge Bi". Tie Gebi, the homonym of Ningbo dialect "adjacent to the next door", that is, the nearest neighbor across a wall. We know the delicious restaurants line up, but we arrived at 5:20, and we actually had to line up! !! There is wood and nature! Fortunately, we are ranked No. 1. After 20 minutes, we have a place. Suppose that the table at the table for 1 hour, then they come to eat at 4:40. Is this dinner or afternoon tea? Until we finished eating, at about 7pm, there were more and fewer people in the rankings.
Ningbo home-cooked dishes are light in taste, serving more portions than expected, the price is moderate, and it costs 170 yuan for 2 people. I didn't dare to go directly to the salted crab. I tried a small "fish crab paste". I couldn't get used to it. The crab meat was marinated raw, it was salty and fishy, ​​and it was better to pour a lot of vinegar. Fried scallops are delicious and ordered at every table. I drank local Liangshan beer, produced by Chongqing Beer Ningbo Daliangshan Company. This is the lightest beer I have ever drunk. The alcohol content is 2.5 and the taste is good.
Tie Gebi: If you want to eat, you must go in line very early

After dinner, take a taxi to the Old Bund.
The iconic building on the Old Bund is an original French Catholic church built in the 11th year of the Qing Dynasty (1872). The whole building is composed of a church, a bell tower and a partial house, which is a typical Roman Gothic style. It is a pity that the fire on July 28 this year basically destroyed it. The place where we got off was the door of the original church. There was no light, and the end of the black pool was a sloping broken wall. It was wrapped with steel feet, and a little spire protruded to form a huge shadow. Turning to the back, I found that there is actually a choir in it, so that this weird ruin is a bit lively.
After the first Opium War, the Nanjing Treaty was signed, and five ports of trade were opened, including Guangzhou, Xiamen, Fuzhou, Ningbo, and Shanghai. After the Ningbo Old Bund was opened in 1844, Ningshao merchants, one of the four famous business gangs in the modern history of China (Jin, Hui, Ningshao, Chaoshan), turned Sanjiangkou into a regional business center. Like all commercial ports, the buildings along the riverfront are a beautiful landscape. Consulates, banks, churches, patrol houses, customs houses, post offices, time-honored brands, etc. of various countries, the architectural styles of the Qing, Republic of China, modern, British, French, German, Dutch and other countries have merged.
We strolled along the river to eat, and there were antique Chinese and Western old houses beside us. On the other side were all kinds of new buildings, neon flashing, singing and dancing leveling up. The bustling yesterday did not end, and today the hustle and bustle returned.
Night view of the Bund: skyscrapers across the river

I don't know when it started. The purely modern business form of bars began to blend into history. It went into the ancient town, into the old streets, onto the plateau, and down the river beach. All attractions have a bar street, and here is no exception. Walking deep into the Bund building, there is a bar next to another, with luxury cars roaring in the streets and restless people coming from all directions. The night life here has just begun.
Walk south along Xinjiang Bridge back to Tianyi Square, thinking of continuing yesterday's wish, and taste the Ningbo specialty snack duck duck dog. Don't want it, it's almost nine o'clock and it's a long line. The service little girl said very kindly: It takes about 1 hour to get the number and so on. There is another one not far from here (20 minutes' walk).
I ask: Is that OK?
Service little girl: Sorry, the kitchen has limited staff, and it is expected to wait 30 minutes for packing.
I:……
We had to give up and walk back to the hotel. In addition to "Yan Zanzi", there is another regret.
---------------------------------------------

On the third day, I left Ningbo early in the morning. I also saw two interesting things in the car: First, the "Tianfeng Tower" looks a lot less mysterious during the day, but it is a bit adorable; An antique building with restaurants, cafes, bars, etc., much like the "Lingnan Xintiandi" in Foshan, quite a bit of tone.
-------------------------------------------------- ---------------------
in conclusion:
1. Ningbo is a small city and livable. The whole of Ningbo is very big. We only visited Haishu District and it was not that big. My requirements for a livable city: the city is small but economically active, the population is not large, the streets are clean, the social order is good, and there are airports of medium size or above. If air quality factors are not taken into consideration, Ningbo still meets the standards of a livable city in my mind. Where I have lived, Chengdu is too big and the air quality is not good at this stage. Shenzhen is a small area but has a large population. Shenzhen, with a small land area, has become China's first and fifth most populated city in the world. However, considering air quality, we will live in Shenzhen for a longer period of time.
2. The surrounding environment of Yuehu Lake is beautiful, with small bridges and flowing water, and historical and cultural background. When we were boating in Yuehu Lake, we felt good here. We checked the high-rise house prices on the lakeside advertisements. It was really not cheap. The 30,000 yuan and one flat are all large units. The cost of living to enjoy the beautiful scenery is very high. This also shows that the overall wealth of Zhejiang is high. As long as the location and area are good, housing prices are not low.
3. Jiangsu and Zhejiang cuisines are often mixed in the field, and there is still a difference between Zhejiang cuisine and Suzhou and Shanghai cuisine in the north. More portion, lower sweetness, more seafood. It's too sweet and I don't accept it. I can adapt to the taste of the dishes here.
4. Tianyi Square has a good plan and is said to be the largest commercial complex in China. It's really big. After walking around, the leader said that the feet were worn out. The biggest feature of Tianyi Square is not a high-rise building, but a group of low-rise buildings. Each building has different business formats, such as high-end shopping malls, restaurants, electrical appliances city, electronics city, hotels, supermarkets, etc. There is a pedestrian street and fountain square in the middle. Good place for leisure shopping.
5. Ningbo has a lot of tourism resources. Because of the big holiday to avoid peaks, many places have not been visited. The next time you come must be a non-holiday, in order to meditate around.
6. Two regrets: I did n't eat "Yan Ya Gou" and I did n't eat "Aunt Wang Youzan". Maybe it 's too much to eat, and then I made up one and did n't go to "Yuehu Shengyuan". Well, fill it up next time. This article is reproduced by the editor of this website. The purpose of reprinting is to convey more information. It does not mean that this website agrees with its views and is responsible for its authenticity. If you are involved in the content, copyright and other issues, please contact this website within 30 days, we will delete the content as soon as possible! The copyright of this article belongs to the original author, and the content is the author's personal opinion. This site has the final interpretation of this statement.