Listening to Fang Tairu's Taoist Visit to Jiang's Former Residence
CEIBS, Xihua Guoxue Academy, Fang Tai's research activities are exciting
From August 21st to 23rd, 2014, CEIBS alumni jointly organized Fangtai School and Research Activities with Xihua Academy and Shanghai Xingxiu Travel Agency Co., Ltd. Twenty entrepreneurs including Chairman of China Europe Business School Alumni Association Qin Yunong and founder of Xihua Guoxue Academy Wang Zhibin came to Ningbo Cixi to visit Fangtai Enterprise and face-to-face communication with Mr. Mao Zhongqun; Fangtai Enterprise came to Fenghuaxi after the visit. Talk about tea, and visit the former residence of Jiang. The schedule was close and exciting. Entrepreneurs learned knowledge, relieved their physical and mental pressure, and spent a pleasant and fulfilling 3 days.
First stop: Visiting Fangtai Enterprise and Mr. Mao Zhongqun face to face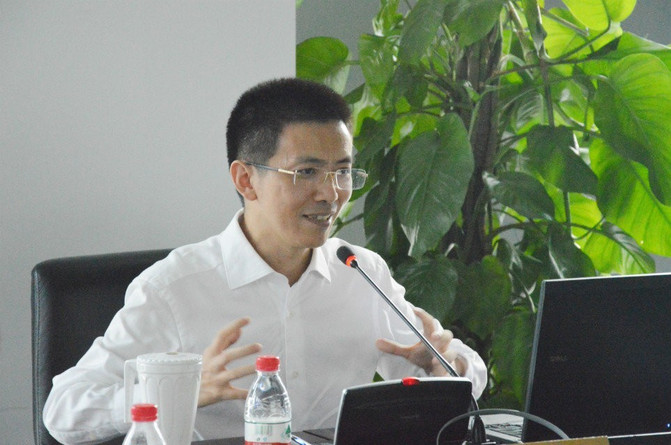 Today, people are more and more aware of the profoundness of Chinese culture, but how to apply the essence of traditional culture to modern society and benefit enterprises and help business operations is a question that entrepreneurs who love traditional culture often think about. During this trip, the entrepreneurial trainees of CEIBS and Xihua Guoxue School mainly came to learn and exchange ideas with Fangtai.
The first stop of the trip starts with the experience of reading the Bible. Fang Tai employees started reading the Bible at 8:15 every day for a total of 15 minutes. Entering the office, the sound of reading aloud makes people seem to return to the middle school classroom, and the aura of Guoxue rushes forward. Entrepreneurs in the same industry took out cameras to take pictures. Meng Yizhao, deputy dean of Fang Tai Group 's family business Changqing successor college, told everyone that Fang Tai employees read "Fang Tai Confucianism", "Disciple Rules", "Three Character Classic", and "Thousand Characters". After reading one, then One, so read in cycles.
In the classics class, people experience a very obvious atmosphere of Chinese learning, and in the exhibition hall, people feel the side of Fangtai's technology, fashion, and beauty. Fang Tai's exhibition hall is very unique. Starting from a circular viewing room, the film is short and the sound and image effects are three-dimensional. Inside the exhibition hall are Fang Tai history, Fang Tai culture, and Fang Tai products. There are a lot of technology and modern design elements in Fangtai's products, which are full of humanity, more convenient to use, and more in line with the aesthetic concept of modern people. After visiting the exhibition hall, the entrepreneurs joked that Fang Tai was beautiful and humane. After buying kitchen appliances, he recognized the Fang Tai brand. Subsequently, the entrepreneurial students of China Europe International Business School and Xihua International School also visited the workshop of the company and learned about Fang's strict quality control process.
At 2:40 in the afternoon, Mr. Mao Zhongqun rushed to the meeting room to communicate with everyone on time. Mr. Mao Zhongqun had a very busy day. He had just attended a provincial conference in Hangzhou in the morning. In order to make an appointment on time, he hurriedly rushed back from Hangzhou to the company to participate in exchange activities. In the exchange with Mr. Mao Zhongqun, entrepreneur students from CEIBS and Xihua Guoxue Academy raised their own questions based on what they saw and heard in Fangtai, and Mr. Mao Zhongqun answered them one by one. In answering everyone's questions, Mr. Mao Zhongqun fully showed the wisdom and mind of an elegant entrepreneur, and his personality charm was admired by the entrepreneurs on the spot.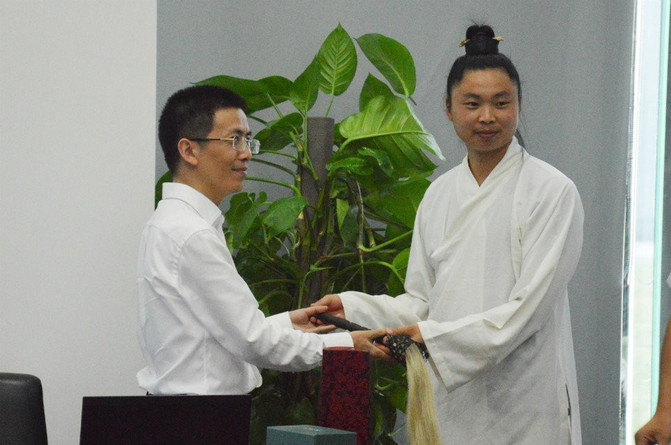 Towards the end of the event, Mr. Qin Yunong, President of the China Europe Business School Alumni Association, presented a special gift to Mr. Mao Zhongqun. Mr. Wang Zhibin, the founder of Xihua Guoxue Academy, summarized the activities. Mr. Fang Tairu said that Mr. Mao is not so much a company as Mr. Fang is more a "Dojo". Chairman Mao is the "Bingfu" of this dojo. For internal financial purposes, external law. Before coming, some people said that Fang Tairu Taoism was not necessarily true, it had a taste of whitewashing. After seeing it in the field, I found that it was really a top-down slump. The visiting entrepreneurs can feel from Chairman Mao that Chairman Mao is constantly learning and improving the system, thinking about these issues from the heart, and benefiting everyone! Later, Mr. Wang Zhibin, the founder of Xihua Guoxue Academy, and Song Xianghui, the curator of Wudang Taiji Club of Xihuatang, performed a dust blow to Mr. Mao, and wished Mr. Mao Zhongqun to "Fang Tairu's dust blow", leading the company to become better and better!
The second stop: eating tea at the farmhouse and chatting about life
Compared to the first day, the itinerary of the second day has slowed down a lot. After a tiring day, the trainees of CEIBS and Xihua Chinese Academy of Tea talked in the mountain forest, ate farmhouse meals, and enjoyed it. The close contact with nature relaxed these entrepreneurs who are under daily stress. They all expressed their hope that Xihua Chinese Academy could organize more similar activities.
The place for tea chat is located at Yuanbao Villa in Xikou Scenic Area. The pond at the foot of the mountain is light blue, like the water in Jiuzhaigou. The mountains are not high or steep, but a large area of ​​green in front of the sky spreads to the sky, making it green and refreshing. There are many small waterfalls in the mountains, and the clear spring at the end can't help but want to hold two drinks. The temperature was very high that day, but the forest was very cool. The tea was chatting in a long pavilion on the mountainside. The long pavilion was full of wooden fences and bamboo chairs. It was simple and elegant. The table was already filled with fruits and tea.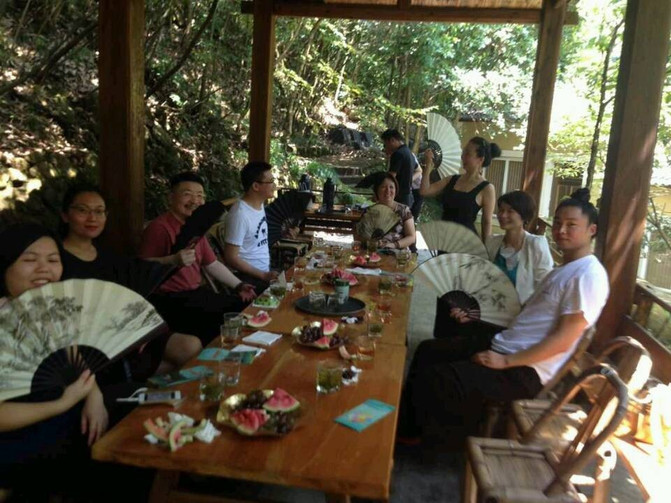 Liao Yifang, the president of Yufu Fund, brought great tea to share with everyone. Entrepreneurs from China Europe International Business School and Xihua International School enjoy tea together, chat about yesterday's Fang Tairu studies, talk about their Chinese culture learning experience, talk about traditional cultural activities to be held in the near future. President Qin Yunong of the China Europe Business School Alumni Association served as the host of the tea chat. President Qin's profound cultural literacy, visionary vision, and funny and humorous conversation won several loyal fans.
The lunch on the day was held at a local farm, and the dishes were very rich. Fresh shrimp, small fish, field snails, local chicken, home-grown potatoes, ginger, water spinach, etc. These organic ingredients are produced and sold in the farm. People eat very much.
Third stop: Visit the former residence of Chiang Kai-shek
In the afternoon, we will visit Jiang's former residence.
Jiang Jieshi was born in Xikou, Fenghua, a place with beautiful scenery. Later, he returned to his hometown Xikou and renovated his old house. Guided by the tour guide, people visited the Wuling City Gate, Song Meiling Villa Wenchang Pavilion, Jiang Jingguo's small bungalow, Jiang's Ancestral Hall, Jiang's Former Residence Fenghao House, and Yutai Salt Shop.
It is said that after Song Meiling married Chiang Kai-shek, he returned to his hometown with him and has always lived in Wenchang Pavilion or a small bungalow. He did not want to live in Jiang's ancestral house, because his former wife, Mao's, lived in the ancestral house. Mao is the biological mother of Jiang Jingguo. The former residence of Jiang Jieshi has a monument "washing blood with blood". When the Japanese army bombed Fenghua, Mao Jing, Jiang Jingguo's biological mother, was unfortunately knocked down by a bomb. Jiang Jingguo heard the news and rushed back from the field overnight. In sadness, he wrote the words "blood-washing blood" angrily, asking the Japanese to pay off the blood debt.
On the Sanli Long Street in Xikou Town, Fenghua, Zhejiang, the hometown of Chiang Kai-shek, there are two Chiang's relics: the Yutai Salt Shop and Fenghao House. Although Chiang Kai-shek was born in Yutai's salt shop, the only property that belonged to Chiang Kai-shek when the Chiang family split was Feng Ho. In the 1930s, Chiang Kai-shek personally had developed to the point where he had the power of the National Government, so he had the idea to expand his hometown, the ancestral house of Fenghao. Jiang Jieshi has found Mr. Feng Shui, and Mr. Feng Shui told him that the position, height, and size of the gate are just right. If it is slightly changed, it may cause turbulence in the house. Therefore, in order to expand the Fenghao House mansion, Jiang Jieshi specially built a new building in Xikou Shangjie, mobilizing the Jiang family who originally lived around Fenghao House to move.
At the time, Chiang Kai-shek decided to follow the instructions of Mr. Feng Shui to build civil engineering and expand the Fenghao House. He originally planned to relocate 26 households near Fenghao House, but in fact only 25 households were removed, leaving only one nearby Zhou Shunfang unmoved. This week, Shunfang had a tough attitude and was not polite to move.
Who is Shunfang this week? It turned out that he and Chiang Kai-shek were both childhood friends, and they had "made friends" since childhood, so they did not regard Chiang Kai-shek as a sacred and inviolable figure. After receiving the notice of the demolition, he once issued some cool words: "Rui Yuan (Rui Yuan is Jiang Jieshi's nickname) became emperor, he asked me to move, I had to move ..." But he insisted on asking Jiang Jieshi Personally. This word reached Jiang Jieshi's ear, and after hearing it, Jiang Jieshi sighed and said, "Let him go."
Chiang Kai-shek, who holds the power of the National Government, is very familiar with the neighbour's temper, and there is nothing he can do about him. Therefore, Zhou Shunfang didn't move, and Feng Hao's house had to be built according to Jiang Jieshi's intention, so Feng Hao's house had to be forced into a corner. Seventy years have passed, and history has turned a new page. However, a house in Zhou Shunfang still stands on Sanli Long Street in Xikou Town, Fenghua, and Fenghao House, which was forced into a corner, is still the same.

Listening to historical stories, judging ancient and modern characters, a day passed quickly. Walking out of Jiang's former residence, people boarded the bus for the return trip, and the 3 days and 2 nights trip was about to end. The busy and compact 3 days and the fulfilling and leisurely 3 days let entrepreneurs truly let go of their hearts, meet more friends, and forge deep friendships. Next stop, China Europe International Business School and Xihua Chinese Academy asked Wudang Mountain in October, goodbye! (Text / Xihua Guoxue Academy Liu Jun), Xihua Travel Special Wechat: xitrip.
This article is reproduced by the editor of this website. The purpose of reprinting is to convey more information. It does not mean that this website agrees with its views and is responsible for its authenticity. If you are involved in the content, copyright and other issues, please contact this website within 30 days, we will delete the content as soon as possible! The copyright of this article belongs to the original author, and the content is the author's personal opinion. This site has the final interpretation of this statement.