Water and fire in Ningbo on a small weekend (1 day in urban area + surrounding suburbs)
I am from Ningbo. When I was a child, I filled in my personal information, and my dad in the hometown column told me to write Ningbo Yixian. This place is strange. I just often hear my aunt tell the story of her native Ningbo. There are big houses like the Ming and Qing dynasties, rubble houses, big pine trees in front of the house, and grandmother picking vegetables under the trees. What does the real hometown look like? There are no photos, only legends in the mouth.
Now Ningbo has already developed quite urbanized. Going to the roots is just a nice talk! Maybe it's an eye-opener for places you've never been to!
Checked the travel guide, there are many tourist attractions around Ningbo. There is basically no fun in urban areas. But for me to come, just play in the city, after all, on weekends, I'm mainly at ease!
Planning: After the train arrives-lunch-check in hotel-Tianyi Square-dinner-Old Bund
Wake up to sleep naturally-lunch-Dongqian Lake-urban city temple
Wake up to nature-check out-moon lake-afternoon tea or coffee-train station
The total cost of per capita for eating, drinking, fun and entertainment is 1,000 yuan for 3 days.
Ctrip's mobile client orders train tickets and collects tickets at the station on site (China Iron Boss Niu X, there are no discounts for on-site purchases or online bookings. There are two types of seats: 96 yuan and 144 yuan. Later, it was found that the 96 yuan tickets were passing cars It is not from Hongqiao Railway Station.
9-13 Shanghai Hongqiao-Ningbo East D5589; 09:13-11:44
9-15 Ningbo East——Shanghai Hongqiao D559; 18: 02——20: 37
The passing car arrived on time and left on time. The only problem was the duplication of seats on the new ticket on the return journey, which resulted in passengers with no seats at the crossing station. The handling method of the railway conductor is: an additional refund of 20 yuan;
Taxis in Ningbo need to line up. Of course, after you leave the station, there will be a lot of black cars and oxen asking you not to line up for renting. In fact, taxis line up for 10 minutes, and there is a pergola in the line. The taxi fare in Ningbo is 10 yuan. The final purchase order requires an additional 2 yuan in fuel costs.
Ctrip mobile client to book Orange Hotel (Ningbo Yuehu Branch): 218 Ma Yuan Road / 218 yuan / night (without breakfast)
The hotel is located next to Ningbo South Railway Station. Unfortunately, the railway station is being rebuilt, so the traffic is not very convenient, and the popularity is not very busy. .
The Orange Hotel decoration is in line with the trendy and simple style of young people. Comfortable and clean! However the wifi in the room was a bit weak. But the front desk staff is very good and will install a room router for you, hee hee!
This is a budget hotel in Orange Hotel, so there is no refrigerator, no bathrobes, no free purified water, and no Apple charging speakers in the room. It's a store's intention to give away the environmental protection bag and 2 peaches this time!
People in Ningbo want to eat Ningbo food, and they want to eat authentic food. So before going to the public review, I collected 5 restaurants as alternatives. I found that the reviews are really good. Many catering merchants in Ningbo have group purchase coupons. This is a good deal! The discount will basically be 88% off. It is a full order!
D1 Lunch: Tie Ge Bi: This is a long-established chain restaurant in Ningbo. It has 8 stores in Ningbo.
Address: North 2nd Floor, Century Plaza, No. 25, Lane 230, Jiefang South Road, Haishu District (near Zhongshan East Road)
Due to the need to check in, I chose lunch relatively close to the hotel. To finish the meal before noon noon 14:00! The taxi driver put us in the back door of Century Plaza, causing me to hold my suitcase to find the doorplate. Sweat! Why is Ningbo still 38 degrees high temperature! hot! hot! hot!
The exterior wall of the shop looks very worn and the decoration is a bit antique, but it has been a long time.
People in Ningbo like to eat crab paste most. It costs 29 yuan / serving. It doesn't feel expensive. It tastes old Ningbo and has a childhood feeling. It is a salty aftertaste with a hint of sweetness. At this time, a bowl of rice bowl is perfect! Ningbo people's breakfast tone is so simple with a touch of luxury!
Hot soup on the Internet is 19 yuan / serving; a large pot, no mud, soup is delicious, and the meat is full.
Rotten yellow croaker rolls are 25 yuan / serving. Yellow croaker is also one of Ningbo's seafood. This dish has the characteristics of Jiangsu and Zhejiang. The rotten skin is very crispy. Use vinegar or other sauces.
Pickled pepper frog 59 yuan / serving; the thumbs-up mark on the menu says it is a special dish here. Sure enough, the bullfrog and loofah flavor is very good, and it will make people drool. At the first taste, I still feel that the spicy taste can be held. After taking a few more mouthfuls, it starts to become spicy from the mouth to the body.
Royal tofu is 18 yuan / serving; really recommended dishes, tofu is tender and fish tofu tastes similar.
Raw fried buns 3 yuan / piece; there is soup, but I didn't eat it. Although it is said to be Ningbo's specialty dim sum for merchants, it is not satisfactory! It's better to order dumplings!
Comment group purchase coupons 100 yuan 85 yuan to buy. Limit 2 pieces per table. I spent exactly 170 yuan, ate 5 dishes, 1 snack and 2 cans of drinks, and finally took 6 cans of drinks to make 200 yuan back to the hotel!
For D1 dinner, I chose Ningbo New Shipu Hotel at Tianyi Square, reviewed 3 group purchase coupons, and enjoyed a cash coupon of RMB 100 for RMB 88.
Address: Gate 8, West Side of Tianyi Square, No. 298 Kaiming Street, Haishu District (Zhongshan East Road Intersection)
This store is super big, the first floor is the reception area and Ming stall a la carte area, the second floor is a large hall, and the third floor and the fourth floor are private rooms. The big god of wealth at the entrance made people look ecstatic.
Since the store arrived at 19:00, a lot of seafood was gone. Ningboers ate early. After 19:30, they started to count the midnight time. At this time, seafood can be discounted 30%, but it must be calculated according to the computer billing time . The average per capita of this shop is mid-range.
Sea melon seeds are very fresh and fresh. Although it costs 68 yuan for one. But it's worth the freshness.
Preserved shrimp and salted shrimps cost 88 yuan, because they are made alive, so the meat is very elastic. And the shrimp shell was fried very crispy, and it tasted delicious with salt and pepper!
Wild yellow croaker made snow vegetable soup is a classic Ningbo dish that I have known since I was a kid. But now there are very few fresh live yellow croakers. The yellow croaker soup that I ate when I was young is delicious. However, the yellowfish soup served was delicious, without MSG. Small yellow croakers sell for 298 yuan / jin; usually one between 6-8.
Garlic iron plate long hair shrimp is a strange name. The garlic paste method has a cheese flavor and is fragrant. I like it very much. 38 yuan / serving
Chicken feather taro is a vegetable that surprised me. I like taro, chicken feathers, and the two kinds of vegetables are a little liquid. It 's awesome! 28 yuan / serving
The final consumption is 315 yuan. This shop can't use credit card to calculate the extra expenses. This is not good, and it does not issue invoices. Hey!
Ningbo Tianyi Plaza starts from Jiao Street in the east, Kaiming Street in the west, Zhongshan East Road in the north, and Yaoxing Street in the south. It is a domestic first-class large-scale city center commercial plaza integrating leisure, commerce, tourism, catering, and shopping. The 35,000 square meter square is large and magnificent, and you can see the towering roof of the Goethe-style church to the south. This church is based on the Catholic Church of Yaoxing Street built in 1702 by the French missionary Guo Zhongchuan in Lingqiao Gate. It was expanded in 1997 and completed in 2000. The ridge of the hall is 31 meters high, and the bell tower is 66 meters high. It is a typical Gothic building.
*** Tianyi Square has free wifi, which is really fast!
*** There are many shopping malls around Tianyi Square. There are many leisure and entertainment places. It is easiest to call a taxi here in the church!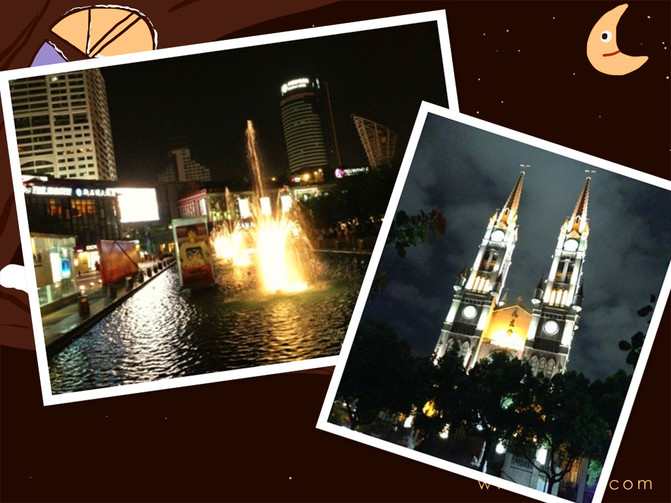 Cangyao Dog Dumpling Shop, Address: 68 Crystal Street, Tianyi Square, No. 188, Zhongshan East Road, Shu District
Ningbo handmade dumplings for 10 yuan a bowl, 6 pcs. Sesame lard sink. Although it is more than 20:00, the business is really good. In addition to snacks, there are also dishes to eat. The Ningbo dumplings here are completely different from the quick frozen ones sold in supermarkets. When I was a kid, I used glutinous rice flour to make sticky rice.
The Old Bund is located on the north bank of the Sanjiangkou in Ningbo. The construction area is 80,000 square meters. Along the riverfront, foreign consulates, Catholic churches, banks, and ship terminals line up, almost recording the entire history of Ningbo's port opening. The Old Bund preserves the historical buildings and neighborhoods and implants new urban culture, perfectly combining the heavy history and the desire for development to create the charm of the 1930s and 1940s.
It turns into a bar at night, it feels like Xintiandi in Shanghai, but it is not as prosperous as Xintiandi. Despite the river view, the lighting at night is not enough. The business climate is not enough. Maybe a little theme event or party will be much better!
It's a pity that there are full-time beggars waiting at the entrance of Bar Street. When they see the taxi stop, they wait for money! That's annoying!
It was raining at 21:00. Instantly there was no mood of wanting to watch the moon. It was just hiding in the rain for a while in Starbucks. This Starbucks is sitting on the waterfront and sitting in the open air a bit under the illusion of Singapore!
Suddenly the temperature dropped, it was a little bit cold! This god is really strange!
D2: Half-day tour of Dongqian Lake
It was thunderous until 10 o'clock, and it was annoying, it was going to rain. But only the thunder didn't see the raindrops.
After leaving at 12 o'clock, I was still worried. I asked the hotel to borrow a black umbrella to see the weather was very cold! Helplessly arrived at the scenic area, the sun came out, umbrellas as sun umbrellas! It seems I have a halo of good weather!
The hotel looks like an 8-minute walk out of the hotel, to the bus station, etc. bus 906. Just get off at Dongqian Lake Tourist Passenger Center Station. The air-conditioned car costs 2 yuan, so you need to bring your own change. Bus waiting time is 20 minutes. We didn't get to the bus station, so it took 80 minutes to get there. It felt like Xujiahui in Shanghai was going to Songjiang Laoshan.
After the bus arrived, a tricycle driver rushed to do business. We had planned to go to Xiao Putuo and get off the station by tricycle for 40 yuan per 2 people. In fact, you can change to the 901 bus at the same station and take the third station to the entrance of the scenic spot.
Uncle tricycle is in his 50s and his family are nearby villagers. It is said that many Wenzhou bosses come here to build villas. The commercial development here is not as rich as the West Lake, it is more original! Uncle Wheel also told me that if you become a boss and get rich later, you can come here to buy a house! what! Do I look like a boss? !!
There are quite a lot of cars with Shanghai license plates here, which are more than those in Ningbo city. You can't see all Shanghai cars in urban areas!
Dongqian Lake Little Putuo, also known as Xiayu, is located in the center of Dongqian Lake, which is a vast lake. Xiayu is a lake center dike made in the 1970s. One end is connected to Taogong Mountain and the other is connected to Erling Mountain. "Huxindi Scenic Area". Tickets are 30 yuan / person.
Enter the scenic area, and go east along the "Tao Gongdi" like Hangzhou Sudi. In the lake and mountains, the temple building is looming, this is Xiao Putuo.
Xiaoputuo Scenic Area includes Xiayu Temple, Butuodongtian, Guanyin on the water, Erling Temple, Erling Pagoda, Wanghu Pavilion, Xinyuebolou, etc. It is a resort for worshipping Guanyin Bodhisattva. Among them, Xiayu Temple and Guanyin Cave (Bu Tuo Dong Tian) are the most famous sites of Xiao Putuo. They were built in the Southern Song Dynasty and have a history of more than 800 years.
Those who wanted to ride a barge were frightened by the price. Although there is a boat of 20 yuan per person, 5 people must sit up and buy a ticket if there is no person. A speedboat costs 280 yuan a boat. Fine then!
Just walk around, breathe oxygen, take a look at the lake view, take beautiful photos, and just worship Guanyin!
New May 1 Seafood Stall is a 24-hour seafood restaurant. Attraction is also because of the neon lights at night, so sometimes publicity is also an important marketing eye-catching.
A la carte ordering is actually clear. 4 oysters, 8 yuan / piece; scallop king 15 yuan / piece. Fried screws 15 yuan / serving; sauce clams 28 yuan / serving. One fried cabbage, plus eggplant minced rice cakes as a staple, 28 yuan / serving.
Pay only 160 yuan, this is awesome! It's a good deal. This shop doesn't provide invoices, and the odd lady will pull it off for you. This dude's big brother has tattoos on his arms and looks like a gangster. Ha ha.
D3 itinerary: sleep to check out and then pass the time to train time.
Moon Lake is close to the orange we live in, in other words, 15 minutes walk from South Railway Station. Moon Lake should be a good place for fitness of the surrounding residents. The rhythm here is very slow and slow, even if you speak slowly.
Because of the planned rowing, you have to compensate. The electric boat here costs 40 yuan and a half hour, and the deposit is 30 yuan. The surface of the lake is not large, and you can go around 4 times in half an hour.
Many people drink tea around the lake, have a cool time, chat, walk their dogs, take their children to the sun, and enjoy the elderly.
Tianfeng Tower can be said to be the landmark of the ancient city of Ningbo. The greenery under the tower sits very well. There are many old people enjoying themselves in the shade, chatting, and playing chess. It's close to Chenghuang Temple. But I'm not interested in Ningbo's Chenghuang Temple, it feels quite dirty. Just passing by.
Ningbo's on-street parking is meter-based, and the price is not as expensive as Shanghai's. It is said that Ningbo has many rich people, but there are no famous cars on the road. Parking is not as dense as in Shanghai.
I prefer the new landmark of Yuehu Shengyuan opposite to the new one. Although it has already been in business, its popularity is obviously not enough. But I like it very much. There are all kinds of styles in the antique Ming and Qing architecture, just like tourists coming here, all kinds of people, coming with all kinds of moods.
Even a quiet cup of coffee is very casual. Life should be so beautiful!
The Starbucks decoration here has a taste of the American countryside. The space on the second floor is very reasonable. The large leather sofa looks very comfortable. The rattan chair on the terrace feels like a vacation when you sit on it. like!
It's as easy as walking around Shanghai to spend the weekends. Life is so beautiful!
This article is reproduced by the editor of this website. The purpose of reprinting is to convey more information. It does not mean that this website agrees with its views and is responsible for its authenticity. If you are involved in the content, copyright and other issues, please contact this website within 30 days, we will delete the content as soon as possible! The copyright of this article belongs to the original author, and the content is the author's personal opinion. This site has the final interpretation of this statement.