In March, Yangchun, Zhejiang Province, went to explore the breath of spring ~.
Travel Date: March 23-28, 2016.
Time: 6 days .. (round trip)
With whom: old classmate.
Number of people: 2 people.
Per capita: RMB 4600.
---
The author went to these places: Hangzhou. Tongxiang. Wuzhen. Ningbo.

---
traffic:
Outbound flight: Eastern Airlines MU5537. Qingdao-Hangzhou. First Class: 1460 yuan
Return flight: Air China (Shandong Airlines) SC4774 Hangzhou-Qingdao. Economy class. 1070 yuan.
Airport bus: 20 + 20 yuan (round trip).

Per capita: 1265 + 40 yuan. RMB.
---
G Iron: Hangzhou East-Ningbo: 2nd Class 71 Yuan.

Round trip: per capita: RMB 142.
---
Intercity Express: Hangzhou Passenger Transport Center-Wuzhen. 30 yuan RMB.
Per capita return: 60 yuan RMB.

---
Small transportation: G Rail (Hangzhou East-Ningbo. Round trip). Intercity Express (Hangzhou Passenger Transport Center-Wuzhen round trip). Metro (Hangzhou .. Ningbo). Bus. Rental. Scenic battery car.

---
Attractions:

Hangzhou .:
Lakeside. West Lake. Beishan Road. Broken Bridge. Baidi. Pinghu Qiuyue. Gushan. Sudi. Quyuan Fenghe. Fukui Park. Guozhuang. Maojiabu Former residence: Yanggong Dike (near the lower section of the Huajia Mountain in Xia Maojiabu). A lakeside European street. Food Street. Liulang Wenying. Nanshan Road Art Leisure Street. Bar Street. Nanping Mountain. Nanping Evening Bell. Sudi. Flower Harbor Watching Fish. Prince Bay Park. Wushan Tianfeng. Qinghefang. Southern Song Yujie. Qinghefang. Passenger Transport Center.
Wuzhen:
Laojie Street View. Wuzhen Vegetable Market. Xizha. Dongzha. Passenger Station.
Ningbo ::
City God Temple. Tianfeng Pagoda. Jiangbei Catholic Church. Tianyi Square. Tianyi Pavilion Museum. Moon Lake (North Lake). Drum Tower. Nantang Old Street. High-speed Rail Station.
---
stroke:
D1. Go downstairs to eat banana leaves after lunch. Then start hiking-Lakeside. Beishan Road. Broken Bridge. Baidi. Wenlan Pavilion. Zhejiang Museum. Gushan. Zhongshan Park. Su Xiaoxiao Tomb. Wu Song Tomb. Su Di .Quyuan Fenghe.Fukui Park.Guozhuang (drinking tea)-back to the hotel to rest.Dinner: green tea. You need to get the number as soon as possible.
D2. Hotel hike after breakfast-Lakeside. Lakeside Park is the general name of six parks near the lake. It is about 1 km in length and is composed of six gardens of different sizes. From south to north, it is a park. , Second Park, Third Park, Fourth Park, Five Park, Six Park. Liulang Wenying Long Bridge (also called Double Head Bridge). Leifeng Tower. Nanping Evening Bell. Jingci Temple. Prince's Bay Park-back to the hotel. Chinese food all the way .
D3. Take Metro Line 1 Longxiang Bridge-Passenger Transport Center (RMB 5 per person. About 40 minutes.)-Wuzhen (RMB 30 per person. About 1H). Walk on the old street. Wuzhen Vegetable Market. Dongzha. West Joint ticket: 150 yuan per person during the day. Remember to bring an old card. Half price. Chinese food: Dongzha .. Catering: Dongzha. Xizha snack food. Recommended: red bean soup .Radish pine.—back to Hangzhou.
D4. The hotel set off after breakfast-Maojiabu. Shangmaojia. Tea Garden. Shangmaojia (drink tea. The aroma of West Lake Longjing before the Ming Dynasty is good. The lunch taste is good). Xiamaojia. Du Jinsheng Former residence. Yanggongdi (the lower part of the Huajia Mountain) back to the hotel. Dinner: miscellaneous. 85 degrees C juice, bread, etc.
D5. Metro Line 1 Longxiangqiao Station-Hangzhou East Station (High Speed ​​Rail Station). Fare: RMB 4 per person. Time is about 30 minutes .. Ningbo Station-Subway (RMB 2 per person. Take one stop) Chenghuang Temple Snack City (Breakfast: about 65 yuan per person. Optional). Chenghuang Temple. Tianfeng Tower. Jiangbei Catholic Church. Tianyi Square. Tianyi Pavilion. Moon Lake. Drum Tower. Nantang Old Street. Dining: Juice. Snacks The food is settled in Gulou in Nantang Old Street. Evening: Take the G train back to Hangzhou.
D6. Take a flight back to your warm home.
---
---
prompt:

Recently, due to the G20 Hangzhou Summit, large areas of roads, attractions, and hotel facades are being renovated. Some people say that the roads in Hangzhou are as if they were blown up in Iraq. The roads towards Longjing, Jiuxi, Lingyin are seriously diverted. Most of the buses do n't go. This trip is tired of taking the bus. Many people are crowded. There are no seats on the car. The road is driving in the opposite direction. There are no bus stops on many sections. The time is long. The first time is so tired Oh. I didn't expect Net tired on the bus. The original vacation and leisure ........ so I took a tour around.

---
---
Accommodation: Hangzhou Overseas Chinese Hotel. 5 nights 1860 yuan. Per capita: 930 yuan RMB.
Ctrip link:
---
food:
Banana leaves (lakeside). Green tea (lakeside store). Xiao Shaoxin (Gaoyin Street) Maojiabu farmhouse cuisine. In Dongzha scenic area. In Xizha scenic area. Chenghuang temple snacks. Nantang old street food ... : Various gourmet snacks.
---
Souvenir: Zhiweiguan is called flower chicken. Dongpo sauce duck. Bandung sauce duck. Sauce chicken feet. Cixi rice cake. Moss twist ..
---
Hangzhou Lakeside:
The lakeside park is one kilometer long and it is made up of six gardens of varying sizes. From south to north are the first to sixth parks, collectively referred to as Lakeside Park. The weeping willows, pine cypresses, and camphors planted in the park form a dense shade of green trees. The delicate flower beds are configured with various flowers, colorful and fragrant, just like a colorful seven-color ribbon. Along the lake are beautifully shaped, green-colored, exquisitely carved stone pillar street lamps.
In the northern part of the park, there are also small pieces such as flower stands and gallery pavilions for people to rest, which not only reflects the atmosphere of modern city parks, but also features the fresh, tidy, clean, and cheerful characteristics of Lakeside Park.

---
Spring in Hangzhou is the most beautiful and the shortest.
Hangzhou cherry blossom viewing site:

Liu Lang Wenying
2.Prince's Bay Park
3. The cherry blossom area in the botanical garden.
4You can also see the beautiful cherry blossoms at Huagang Fish Watching, Liulang Wenying, Gushan, Baidi and Sudi.
There are twenty or thirty cherry blossoms at Wuguitan near Bapanling Road.

---
Flowers blooming on the lakeside road. With smiles, visitors from afar are welcome. Here is the spring blossom ~.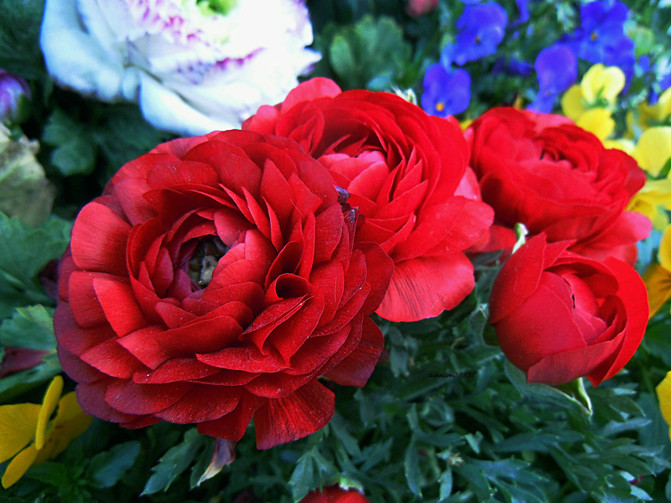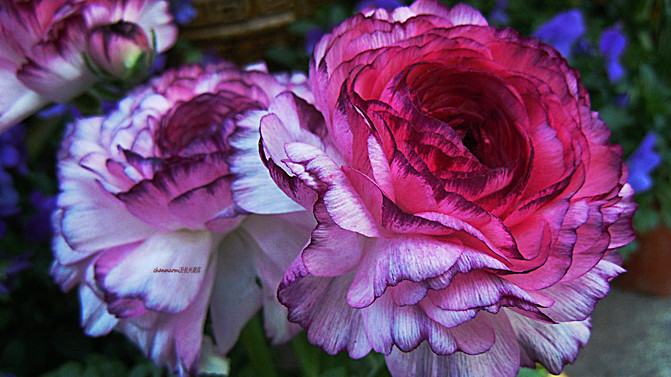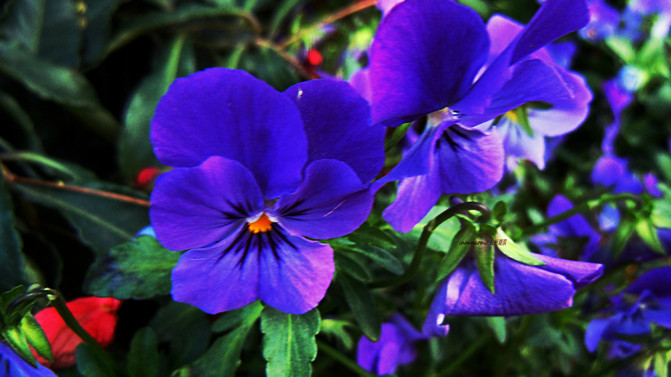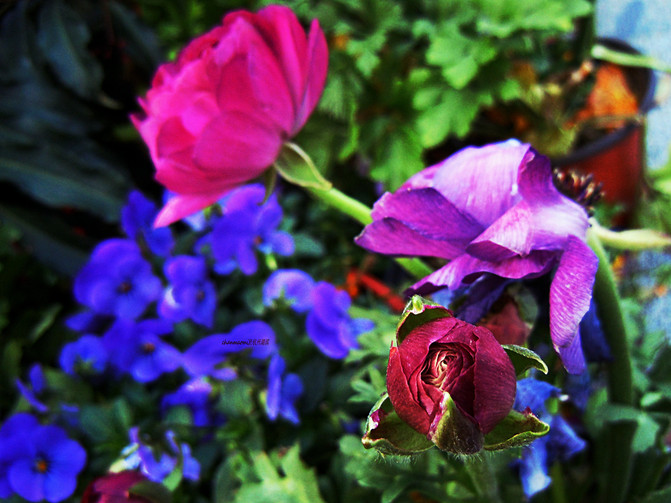 Smoothly arrived at Hangzhou Overseas Chinese Hotel. Check in.

The hotel is in a good location.
Airport bus. Metro .. Bus. Rental. Catering. Shopping are very convenient. Suitable for one person travel.
Arrive at the hotel at noon. Check-in was completed successfully. Although the first-class dining is not bad. It is already breakfast. By convention. Banana leaves downstairs to solve Chinese food. The ingredients are good to the mouth.
Lakeside West Lake-Lakeshore ..

Weather: cloudy.
Spring is like four seasons. This is true. The temperature is high and low. People traveling should pay attention to adding and subtracting clothing.
The cherry blossoms on the shore of Lake Xizi have bloomed.
Tea Room on Beishan Road ~
Wenlan Court
---
There are many more places to enjoy peach in Hangzhou. You can see flourishing pink peaches and white peaches around the West Lake.

most famous:
1. Baidi and Sudi. The flowering period of peach blossom reaches its peak in Qingming season, and the flowering period is about half a month.
2.Maoxiang water conditions and Longjing eight scenery can be selected.
---
Uncle Bao Tower stands on Uncle Bao under Peach Blossoms ..

The broken bridge is set against the spring colors of peach red willow green.
Spring in Baidi ~
Lonely mountain
Lonely mountain
Xi Leng Yinshe. This time here. Failed to enter. Recently in repair ~. Are fighting for the G20 Hangzhou Summit!
Pinghu Qiuyue. Also for G20 ~~~~
It's cold and no one sits outdoors.
Su Di: Willow spit Cui. Peach blossom still laughs spring breeze. Spring in the garden cannot be closed.

Quyuan Fenghe.
Weather forecast: cloudy.
Yudai Qinghong
Qu Yuan Feng He Yu Distillery
Lian Yu 52 Xiaobailou. An elegant homestay. The building is in Quyuan Fenghe. Summer is a good choice for Hangzhou to appreciate the lotus. The service here. Health. Dining is good. .
Fukui Friendship Park. The G20 summit is under renovation ~~~~.

Guozhuang.
Drink tea and enjoy the flowers. They are also being repaired ~.
This is the only one that opens. This black tea. Green tea is still teabag. Tragedy ~. It's not cold and cold. I don't drink drip cutting.

Green tea. The dishes are affordable. You can get the number in advance or go later. There will be fewer people.
Nanshan Road ~
Hearts fight for beauty ~
Liu Lang heard the warbler: Willow leaves and turquoise.

Leifeng Tower is set against red hearts ~
Leifeng Tower is under the background of Willow Leaf Turquoise ~
February Yue Lan is also low-key. Quietly open
Looking back on the three sides of the landscape. One side of the city. Hangzhou city
Lan Yueting
Leifeng Tower is full of spring ~

Jingci Temple. Nanping Evening Bell
Prince's Bay Park .:
The Prince Edward Bay in spring is the most beautiful. It is also the shortest. The temperature has increased in the past few days. The flowers have bloomed ahead of time. These days have been continuously low. There are heavy to moderate rain in the next few days after the weather forecast. Watch the flowers to seize the opportunity. Otherwise, year after year ~
Weather forecast: cloudy to cloudy
Cherry blossoms bloom in spring
Wushan Tianfeng

Qinghefang
Hefang Street.
Happy mushrooms.
Every time you come here, order a sweet-scented osmanthus powder
Hu Qingyutang. Even a treasure of Chinese traditional medicine.
I want to visit the former residence of Hu Xueyan. You must arrive early. Otherwise, close the door and snore.
Rejuvenation Hall. Time-honored.
Chinese medicine is a splendid pearl in the treasure house of ancient Chinese culture and science. It has a long history and has a history of more than 1,000 years.

Bandung sauce duck. National brand. Century-old brand
Southern Song Dynasty
street
Gaoyin Street. Food Street. Yuhefang Street is parallel.
Xiao Shaoxin. I must come to Hangzhou every time I like. I like the dishes here. Home-style taste.
The heat is moderate. The meat is delicious. The greens and amaranth are made slowly and well.
---
Wuzhen:
It is located at the northern end of Tongxiang City, Zhejiang Province.

It is 13 kilometers away from Tongxiang City, bordering Huzhou City to the west and Wujiang District, Suzhou City, Jiangsu Province to the north.
traffic:
After arriving at Wuzhen Bus Station, the way to Wuzhen Scenic Area (Dongzha, Xizha) is as follows:
Station to Dongzha: Wuzhen Bus Station is about 0.5 km from Dongzha. Get off at Wuzhen Bus Station, go east along Qingzhen Road, go to the intersection of Qingzhen Road and Zhicai Road, go north along Zhicai Road, go to the intersection of Ziye Road and Zhicai Road and go east along Ziye Road. You can see the Dongzha parking lot, and you can reach the entrance of Dongzha Scenic Area by walking in.
Station to Xizha: Wuzhen Bus Station is about 2 kilometers from Xizha. Get off at Wuzhen Bus Station, take the bus K350 at the entrance of the station to reach the east gate of Wuzha Xizha; or get off and follow Qingzhen Road to the east, and then to the intersection of Qingzhen Road and Zhicai Road, go north along the plant road Go to midnightAfter crossing the road with Zhicai Road, go west along Ziye Road, cross Wuzhen Bridge, west along Hongqiao Road, and then north along Zhaoming Road, which is the southern gate of Xizha Scenic Area.
Dongzha to Xizha: Dongzha is about 1.5 kilometers away from Xizha. Follow Zhongye Road all the way west, cross Wuzhen Bridge and continue west. After crossing Hongqiao Road all the way north, you can reach the entrance of the South Gate of Xizha Scenic Area; 9: 00 ~ 16: 30 in the morning, there is a free shuttle bus to Dongzha and Xizha Shuttle buses run about 30 minutes apart. There are also rickshaws and taxis.
---
Wuzhen Old District.
Weather forecast: cloudy to sunny

Seasonal Malantou. 6 yuan RMB500 grams. Seasonal small vegetables that must be eaten in Jiangnan in the current season. Hotels have to sell.
White strip fish. 15 yuan RMB500 grams. More spines. Tender meat. Delicious taste. At present, all hotels in Jiangnan have food to eat.
Wuzhen Dongzha Scenic Area
Dongzha still has folk houses. Looking into the local customs and customs. Hanging quilts. Drying clothes ~
Upright fir forest. It's more expensive than gold
Bamboo Forest in Dongzha
Wuzhen Dongzha Dongshi
Fengyuan Shuangqiao. This is the commanding height in Dongzha. Standing here you can look over the entire Fortuna Bay.
Wuzhen East Street

Wuzhen Dongzha Jiangnan Hundred Beds Museum
It is the first museum in China to collect and display ancient beds in the Jiangnan area. It is located at 210 Wuzhen East Street, also known as the Zhao Family Hall. It covers an area of ​​about 1,200 square meters and contains dozens of Zhang Ming, Qing, and modern Jiangnan Ancient bed boutique.
Banana tree. Red apricots are out
Large-scale workshop for manual environmental protection printing and dyeing.
The workshop covers an area of ​​2500 square meters, and the cloth drying site is paved with blue bricks. There are dense high poles and stepped cloth drying racks, which are quite large in scale. In addition to the blue grass as the raw material for dyeing the blue printing cloth, the unique dyeing workshop of the grass and wood also has a unique color baking process.
Colorful roasted colors are extracted from local plant materials such as tea and mulberry bark

As the leaves of black cricket are all raw materials for extracting color, this dyeing workshop is locally called the grass and wood color dyeing workshop. (This paragraph is taken from the network)

Wuzhen Dongzha blue printed cloth
Wuzhen is one of the origins of blue printed cloth. Hongyuan Thai Dyeing Factory was founded in the Song and Yuan dynasties. The original site was in Nanzha, and Qing Guangxu relocated there. It is a blue print fabric production base and a blue print fabric distribution center.
Wuzhan Dongzha Baihua Hall
Famous for its exquisite wood carvings. It sculpts beams and paintings, especially characters, birds, and beasts on the lintels, window sills, and other forms of expression through the use of circular, flat, open-cut, and hollow-out sculptures. Nowadays, there are a wealth of ancient Chinese woodcarvings in the main room.
Wuzhen Fengyuan Shuangqiao
Because it has a covered shed, it is also called a covered bridge. There is a water fence under the bridge. It is said that walking on the double bridge has the custom of men and women left and right. When walking over the bridge, it is necessary to separate the left and right halves. Standing on Fengyuan Shuangqiao, you can overlook the Dongshi River.
---
Wuzha Xizhai Scenic Area:

Xizha is located on the west street of Wuzhen, adjacent to the ancient Beijing-Hangzhou Grand Canal, and has direct roads to the urban areas of Jiangsu, Suzhou and Tongxiang. The traffic is very convenient. Unlike Dongzha, which is based on the theme of tourism, Xizha creates business tourism, leisure and vacation Mainly
To enter Xizha, take a ferry. "Harmony" is the most accurate way to describe Xizha. Xizha is made up of 12 small islands. More than 70 small bridges connect these small islands in series. The river density and the number of stone bridges are the highest in ancient towns in the country.
For example, the Tongji Bridge and the Renji Bridge are adjacent to each other at right angles. No matter which bridge is standing, you can see the other bridge in a bridge hole, so it is called "Bridge Bridge". "Bridge in the Bridge" is the most beautiful ancient bridge scenery in Wuzhen.
---
The best time to travel is:

Spring and autumn. The most beautiful times of the day are early morning and evening. In the morning, a thin mist will flow over the river, like a dream. In the evening, the sunset was shining and the tourists were scattered. A living Wuzhen appeared in front of the eyes.

---
famous scenery:

Ancient Bridge, Ming and Qing Architecture, Xizha Old Street, Linhe Shuige, Natural Wetland
---
All attractions in Xizha:

Ferry to Andufang Wharf → Visit the Herb Dyeing Workshop → Zhaoming Academy → Visit the bridge through the rain to visit Hongchang Lane → Sancun Jinlian Museum → Old Post Office → Wuzhen Grand Theater (listen to comment and enjoy local opera) → Hengyitang Pharmacy → On the hall Hall → Shenglian Square, Bailian Temple Pagoda → Wenchang Pavilion, Guandi Temple → Guanqiao Liqiao (Renji Bridge, Tongji Bridge) → Visit the Wujiangjun Temple across the Tai'an Bridge → Wujiang Jun Temple Wharf to Lingshuiju → Admire the garden scenery of Lingshuiju → Visit the celebrity exhibition halls such as Mao Dun Memorial Hall → Floating Market → Yichang Yefang → Xuchang Sauce Garden → Cross the Anqiao Bridge to An'andufang.

---
Wuzha Xizha:
The Wuzha Xizha Scenic Area covers an area of ​​3.4 square kilometers, crosses the river more than 9,000 meters, has a beautiful environment, and requires a ferry to enter and exit.
The ferry boat (Visitor Service Center-Andufang) has 72 ancient bridges in Xizha for free. It can be said that there are only one bridge in a hundred steps. The river density and the number of stone bridges are among the highest in ancient towns in the country. The scenic area has beautiful Ming and Qing architecture 25 10,000 square meters, Xizha Old Street, which runs across the scenic area, is 1.8 kilometers long, and the Riverside Pavilion on both sides of the river stretches for more than 1.8 kilometers.

The rivers in Wuzhen belong to the Taihu Canal in the Yangtze River

The red bean dumplings in Xizha are very delicious. The aroma of red beans plus glutinous rice. The aroma of loquat leaves. Glutinous. RMB 5 each.
Ha ha. After eating this little brown with small meals, you only have big eyes and small belly for other foods
Wuzhen Special Diet
Braised mutton: Wuzhen's braised mutton is very particular about the ingredients. It must be based on the "Huayang sheep" of that year, that is, young lake sheep. This kind of mutton has less tender fat, fine skin and more paste, which is an indispensable supplement in Wuzhen's winter season. In terms of food, there is a folk saying that "one winter mutton, a few pounds of ginseng has been beaten".
Whitewater fish: Wild fish in Wuzhen waters. It grows in pollution-free rivers. Its meat is tender and delicious, and it is a rare freshwater treasure. Whether steamed or braised, they are rare and delicious.
Sanbaijiu: It is a fine wine of Wuzhen people. It is made by hand with natural ingredients. What is Sanbaijiu? "Wu Qing Zhen Zhi" said: "It is made of white rice, white noodles, and white water, so it has a name." This wine is mellow, pure, sweet and delicious, suitable for men, women and children. It is famous for its strong aroma, mellow wine taste, sweet mouthfeel, refreshing aftertaste, and endless fragrance. It has been popular in Jiangnan for hundreds of years and is enduring.
Aunt cake: one of Wuzhen's famous traditional pastries. Although the process is not complicated, it has an exclusive formula, which is a snack for young and old. It is oily and fragrant, with crispy, pine, waxy, moderately salty and sweet flavors, full of country flavors but not rough, and has various flavors such as sesame and peanut.
Dingsheng cake: Wuzhen has been proud of reading since ancient times. In ancient times, scholars were the first students to be tested. Relatives and friends had to send off a few cages of sweet and sticky Dingsheng cake to express their good wishes for the gold list title. Knead into glutinous rice flour with tender ai, small thorns grass, etc. to make a greenish green fragrant and soft, full of natural flavor; for more than 20 hours, dried stinky tofu or steamed or fried, also Wuzhenyi Absolutely.
Smoked bean tea: It is also called roasted bean tea. The main raw material is smoked beans. The auxiliary materials include sweet-scented osmanthus, fried sesame, orange peel, shredded radish, perilla, fried cypress, etc. Therefore, Wuzhen people say "eat tea". The aroma of scented bean tea is fragrant, and it is a top-notch hospitality product.
Hang Bai Ju: Hang Bai Ju is not actually produced in Hangzhou. In May 1999, Tongxiang City, which was named by the Ministry of Agriculture as the "Hometown of China's Hangbai Ju", produced more than 90% of the country's total output. It is the Chinese origin of Hangbai Ju and enjoys the "Hangbai Gong Ju and Longjing Famous Tea "and mention the glory. Hangbai chrysanthemum, also known as camomile, is a traditional cultivated medicinal plant in China, and it is one of the eight famous medicinal materials in Zhejiang Province, "Zhebawei". The petals of Wuzhen White Chrysanthemum are as white as jade, the stamens are golden, the flesh is thick, the fragrance is rich and elegant, the taste is sweet and mellow.
Xuchang sauce garden
Xuchang sauce garden in front of the backyard, self-produced and sold. At the beginning, it mainly engaged in watercress sauce, soy sauce, and pickles. The sauce is traditionally brewed by hand. Every spring and autumn, the sauce garden purchases high-quality soybeans, broad beans, wheat and other raw materials from neighboring villages and towns. It uses bamboo plaques to make kojis, and is brewed after half a year of natural exposure and fermentation. The sauce produced is sold in Jia, Lake and other regions.

Floating Market:
The floating market in Xizha is called the "water market mouth".
In the early morning, the morning fog had not yet dissipated, and the Shuishikou was bustling and lively. Boats from all directions had crowded the river. In the water pavilions on both sides, the teahouses, butcher shops, snack bars, and tofu stalls had unloaded and opened the doors early. Then, the day of Water Village kicked off. In the evening, the twilight shrouded the town, with a little light shining through the windows and the door slits of the water pavilions, and the cafes, supper and barbecue restaurants on the sides of the water market were lively again. People here enjoyed the freedom after a day of work.
Spring is full of spirits. Everything recovers. Spring returns to the earth ~.
People and environment, nature and architecture are more harmonious.

Wuzhen White Lotus Tower:
Located in Wuzhen Xizha Scenic Area. The White Lotus Tower was built during the Chongning period of the Northern Song Dynasty. The original Bailian Pagoda was seven levels high and sixteen feet high. It was destroyed in the war between Zhu Yuanzhang and Zhang Shicheng in Wuzhen at the end of the Yuan Dynasty. It has been rebuilt several times. During the Xianfeng years, the temple was destroyed by war and the tower was more inclined. By the 24th day of the lunar calendar in the 7th year of Tongzhi, it collapsed, and it lasted for more than 760 years.
In 2005, the White Lotus Pagoda was rebuilt on the island of Huanhe River on the banks of the Grand Canal in Xizha. The current Bailian Pagoda is seven levels high and the tower is 51.75 meters high, which is the tallest building in Wuzhen. At night, the body of the tower was so dazzled by the light that it was beautiful. (The night view of the White Lotus Tower below is a borrowed picture).

Wuzhen has always said that there are two pagodas and nine temples, and one of the 13 towers is the view of Dongzha. One of the two towers is the White Lotus Pagoda.

Look, the long guns and short cannons of the photographers ~. They are pretty hard. It's hard ~
Wide water surface, quiet and wild wetland style.
Autumn landscape
Spring scene
The rape flowers in Xizha are in full bloom ~.
Attach a LZ selfie.
My Weibo: lianyi ripples.
Ctrip Traveller: chanmaomi
This radish cake is delicious. RMB 5 for one. The nephew is tender and tender. It is soft.
Maojiabu: Shangmaojia

Tea Mountain in Maojiabu. Overcast
Tea picking woman
This granny is quite capable. Look at the tea basket full. Granny is still humble
My own dried bamboo shoots. Very tender. It reminds me of steamed bamboo shoots. The saliva comes out ~.
Maojiabu's farm dishes are worth a taste. Moderate taste. Affordable prices.
West Lake Longjing Early Spring Tea. The scent of tea. The fragrance is completely integrated. Good tea is delicious
The tender cress is fried. The fragrance of cress is good.
The screw lion is right now ~.
Meat fat. Delicious. Soup thick. Really delicious ~.
Delicious farmhouse big fish head ~.
Look at this big basin ~.
Xia Maojiabu-the former residence of Du Jinsheng.
Come here in autumn
In the garden. The sweet-scented osmanthus in the garden. Fruits on a grapefruit tree are full of branches.
Wetland characteristics are obvious
Yanggongdi under the Huajia Mountain
Zuibailou
Continue to walk forward to the Hangzhou flower garden. From here, you will reach the wonderful section of Yanggong Embankment. Erwan Bay Scenic Area. You can also enter from Wuzhuangyuan Square. Go to the direction of Quyuan Fenghe along Xili Lake. Listen to the singing of the birds in your ears. You can fully appreciate this wild and natural scenery.
This section is also my favorite. Almost every time I must come. My trip ends here. I will come back later after the renovation.
I ca n't afford the traffic like this

Ningbo City God Temple
Ningbo Water Mill Dumpling. I like its soft glutinous. Jindao. Rice flavor. Sweet filling. Only Ningbo Dumpling is best.
Guiling cream. My favorite
Baked baby potatoes are also good
The freshness is not enough. The season is wrong.
Little yellow croaker
The most delicious in the season
Crab fried rice cakes are good times.
View of the Tianfeng Tower in the Old Town God Temple
Jiangbei Catholic Church
Tianyi Square. Tianyi Square under the night is the most amazing
Tianyi Pavilion. Tickets are 30 yuan RMB.
Tianyige Museum is located on the west bank of Yuehu Lake in Ningbo City, and it is the oldest private library in China. Tianyi Pavilion was a collection house built by the retired official Fan Qin during the Jiajing reign of the Ming Dynasty (1561-1566). Ancient books and book cases were placed in the building, which was full of a strong aroma of books. The museum is actually a Jiangnan garden.East Park and South Park are scattered with rocky hills, ponds, pavilions and other landscapes. Walk in the quaint brick-wood promenade and feel the quiet environment. There is a forest of Mingzhou steles in the park. Hundreds of stone steles record the history of official education in ancient times. There is also the Museum of Calligraphy and Painting, which often displays the fine arts and paintings collected by Tianyi Pavilion and the fine works of celebrities. In the park, there are other buildings such as the "Dongming Cottage" before the completion of Tianyi Pavilion, the "Qin Family Ancestral Hall" showing the architectural characteristics of Ningbo folk houses, and the former residence of Fan Family. In the Mahjong Gallery, you can see all kinds of Mahjong tiles, let you understand the origin and development of Mahjong culture. Is one of Ningbo's landmark buildings.
Moon Lake Park
Beijing-Hangzhou Grand Canal: Shui Zebei
Drum Tower
Nantang Old Street. A few minutes walk from Ningbo Railway Station.
The traditional snacks of old Ningbo. You Zanzi. Moss sticks (salty) are the representatives. I want to line up to cut them.
Old traditional handicraft. Stone mill.
Baguatian Scenic Area.
It is located in the downtown of Hangzhou. It is about 4 kilometers away from Hangzhou City Station. The transportation is convenient. Recently, you can visit here if you have enough time in Hangzhou. The picture below is borrowed
Summary: The weather on this trip is not too good. Thank you Hao Tianyu did not come down. Room for rent in the city. Small traffic is blocked (G20 summit). Travel inconvenience.
Suggestions: Free time crowds should try to avoid legal fake festivals. Weekends. Try to avoid travel agencies. Avoid crowds. Except those who like to be lively.
BYchanmaomi in East Zhejiang 201603
This article is reproduced by the editor of this website. The purpose of reprinting is to convey more information. It does not mean that this website agrees with its views and is responsible for its authenticity. If you are involved in the content, copyright and other issues, please contact this website within 30 days, we will delete the content as soon as possible! The copyright of this article belongs to the original author, and the content is the author's personal opinion. This site has the final interpretation of this statement.