Recently, I thought about going out for a little fun, so I came to Ctrip's website and found that Ford had a coupon collection event (portal: /), it was actually reduced by 300, and I decided to participate. As someone who had just passed the cruel driver's license exam and was lucky enough to pass, I already had itchy hands, so I experienced it at Ford's 4S store and successfully got the coupon. Then I went home and talked to my dad.

Then my parents and I brainstormed, and finally decided the destination-Ningbo. It's early summer and I'm in a happy self-driving tour! And as a foodie, I was not only attracted by the freshness of self-driving, but also the food and scenery of Ningbo made me happy.
Day 1: Suzhou-Hangzhou Bay Bridge—Ningbo Museum-Old Bund

As a driver with a manual gear, I officially embarked on the "on the road" self-driving journey for the first time. Fortunately, my dad was pointing and pointing, and I started quickly.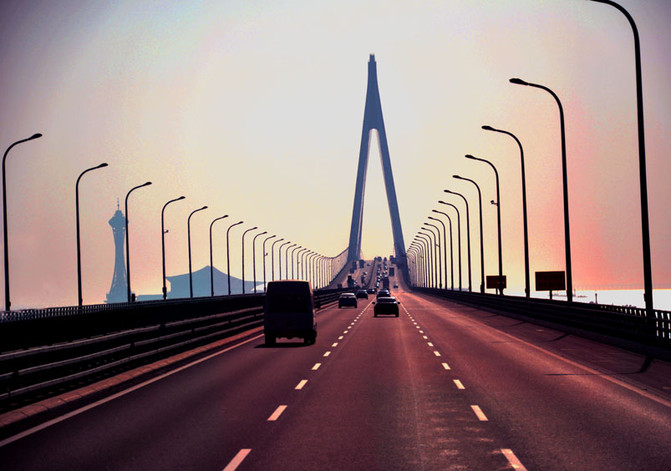 Since the completion of the Hangzhou Bay Cross-Sea Bridge, the journey to Ningbo has been greatly shortened, but everyone basically still takes the Shanghai-Hangzhou Expressway to the G15 Shenhai Expressway on the cross-sea bridge. Here we recommend the G2 Beijing-Shanghai Expressway to the G15 Shenhai Expressway. Can avoid frequent traffic jams on the Shanghai-Hangzhou Expressway ~
At more than two in the afternoon, we arrived in Ningbo and successfully checked in to the hotel. This time we chose Kaiyuan Hotel, which is located in the Jiangdong business district in the city center. Kaiyuan was chosen on the one hand because of its high cost performance and on the other hand. I read many user reviews and ratings on Ctrip, and I feel more suitable for family outings.
According to the past experience of family traveling by car, there are many cars in the urban area. Migrants are unfamiliar with the situation and it is easy to take a wrong road. Therefore, we decided to temporarily abandon the car and use the subway to take a half-day city tour:
[Ningbo Museum]: The museum's architectural structure is very unique and inclined. The exterior wall is made of old bricks, with a natural and simple appearance texture, which has a unique aesthetic sense. We spent a total of nearly 3 hours visiting, and the collections and various exhibitions in the museum are very local.
The appearance is very individual. This is called an art fan.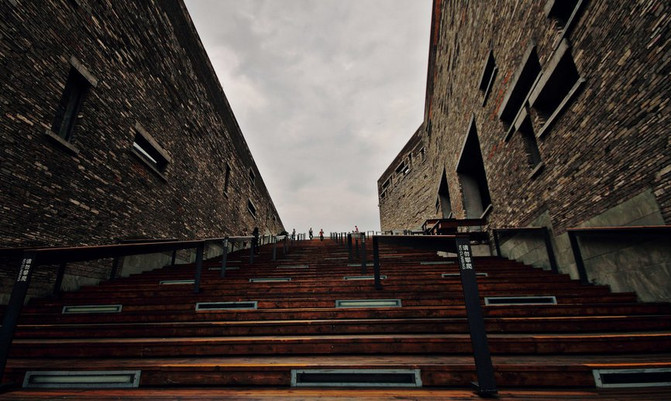 Go up the steps.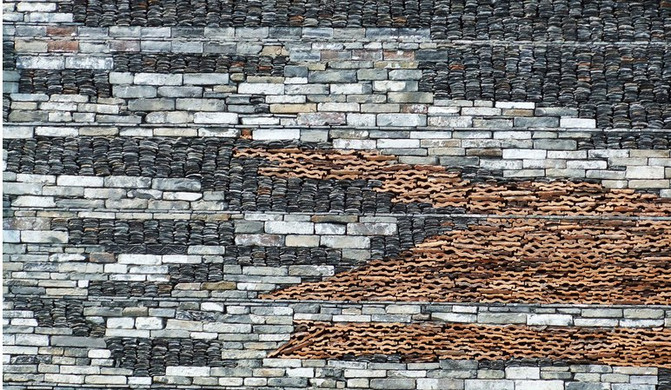 This wall is so exciting.
Out of the museum, walk to the Bund.
[Ningbo Old Bund]: It was evening to leave the museum and rush to the Old Bund. I didn't expect it to be very quiet. With European-style architecture, we seemed to be walking into European towns and strolling along the river. Historic building, on one side is a neon building lined across the bank. There are not many tourists at night, and it is very pleasant to walk around.
It's getting late and not many people.
Day 2: Tiantong Temple-Ashoka Temple-Tianyi Square
The next day, I mainly visit several attractions in the suburbs of Ningbo, so the convenience of self-driving is reflected.
[Tiantong Temple]: We drove from Ningbo City Expressway to Tiantong Temple soon. I have to say that since I arrived in Ningbo and found myself completely a idiot, I totally rely on navigation!
Step into the ancient incense road leading to Tiantong Temple, and suddenly feel the towering trees on both sides, the air is exceptionally fresh. According to historical records, Tiantong Temple was built in the Jin Dynasty and has a history of more than 1,700 years. It is one of the two most famous ancient temples in eastern Ningbo. However, it was repeatedly damaged after its completion. The Tiantong Temple we see today was rebuilt in the Ming Dynasty.
I spent nearly 2 hours visiting the ancient temple. At noon, I saw that there was a supply of Suzhai in the temple, and it was 10 yuan per person. So we also went to the temple to do the custom and ate a vegetarian meal. What's interesting is that you have to wash the dishes, chopsticks, and dishes yourself after eating. This is a test of the civilization and hygiene habits of the eaters. I did n't even do the dishes at home. I actually experienced it here and it was pretty good. My mother said so joyfully: I will leave it to you when I go home. -_- ||||
[Asoka Temple]: It takes only 10 minutes to drive from Tendo Temple to Asoka Temple.
Ashoka Temple has a history of more than 1,700 years. The existing main building is the Qing Dynasty. Although the whole temple is still quaint, it is slightly messy compared with Tiantong Temple. It is said that there is a stupa tower that attracts worldwide attention. We also went there with this baby (My dad believed in Buddha (I worship at the temple, especially reverence for the relic). Sure enough, we saw the relic tower on the second floor of the temple. The elder sister who accompanied me, knelt down on the ground and watched the relic tower, she said, "I'm very happy with my fate" Well, I didn't feel anything after watching it for a long time ~
[Tianyi Square]: After leaving Asoka Temple, the day's tour is over.
As planned, we went to Tianyi Square in the city center to find food.
Since I was always hungry, I just found a place to order. It seems to be called Chai Fei Yuan. We ordered several kinds of snacks that represent the local characteristics of Ningbo. The rice cake soup and Ningbo dumplings are pretty good. I do n't eat much. I also ate a lot, but the service attitude of the staff was not so enthusiastic, which made my parents unhappy. After dinner, my mother's interest came and said that I was going to stroll, so my dad and I found a cafe to play mobile phones, and my mother quickly entered the mall. After a while, they came back in big bags and kept saying that the seafood here is really good. Alas, my dad looked at the cash register slip and felt his sweat.
Back at the hotel, the front desk staff reminded us if we needed a morning call and supper service, because we were exhausted and we wanted to sleep until we woke up naturally, so there was no need.

Day 3: Tianyi Pavilion-Moon Lake-Suzhou
[Tianyi Pavilion]: Tickets are 30 yuan / person. This is the most anticipated spot on my trip, because I have heard of it since I was a child. It is one of the four largest collections of books. Originally, I was only interested in the building of Tianyi Pavilion, but when I went in, the collection was very rich, and it took more than two hours to look left and right. I feel like I have read books for so many years.
The environment is good.
Very interesting collection.
[Yue Lake]: Before going to Moon Lake, I was still wondering if Moon Lake without tickets is like a large park in Suzhou, with a little rockery and artificial lake water, plus some trees. However, after seeing the introduction of Yuehu in the Ningbo Museum on the first day, I learned that Yuehu is a place with human history and the academic center of eastern Zhejiang. Many people said that Yuehu was not big on the Internet. It feels like Moon Lake is not small. It took us more than 2 hours to watch more than half, but the scenery is very good, not worse than West Lake.
Mom and Dad took a lot of photos by the lake, obviously Mom was impatient, Mom was still posing, haha. I really envy the people of Ningbo. In the city center, there is such an elegant place. In addition, when we went, it was raining drastically, and there was no pressure without an umbrella.

On the way back to Suzhou, I have become more proficient in driving. I think I will have more time to play with my family, or to take a few buddies with a car in the future. Come take a close-up of my car.
Then again, this Ford test drive event was really good, it only cost a few hundred yuan! In the words of my mother: if you save it, you will earn it! My dad seriously said to me, "In the future, you should always keep an eye on the special offers online, group purchases, activities, etc. You teach how to place orders. I want to take your mother out and play a few more times."
Um, really when I don't exist ...
This article is reproduced by the editor of this website. The purpose of reprinting is to convey more information. It does not mean that this website agrees with its views and is responsible for its authenticity. If you are involved in the content, copyright and other issues, please contact this website within 30 days, we will delete the content as soon as possible! The copyright of this article belongs to the original author, and the content is the author's personal opinion. This site has the final interpretation of this statement.