Daughter they decided to take the baby to Jiulong Lake. In this way, there are five people of three generations, with baby supplies such as cars and baby bottles, and taking the "Volkswagen cc". After a Chinese meal on April 14, 2013, they set off from home and went to Jiulong Lake. Check in at New Century Ningbo Jiulong Lake Resort. The room was booked on Ctrip, including two breakfasts, and the specific price was not recorded.
Kowloon Lake Resort
A total of 354 rooms opened in 2009.
Kaiyuan Ningbo Jiulong Lake Resort is located in the Jiulong Lake Scenic Area known as "Shangri-La in East Zhejiang".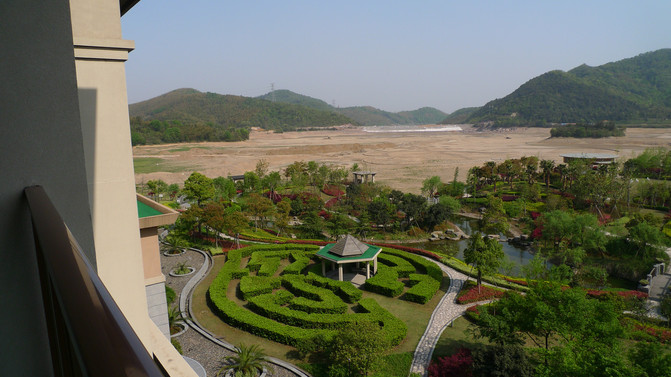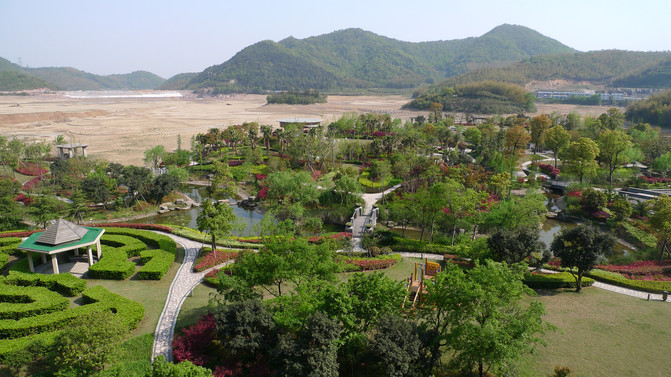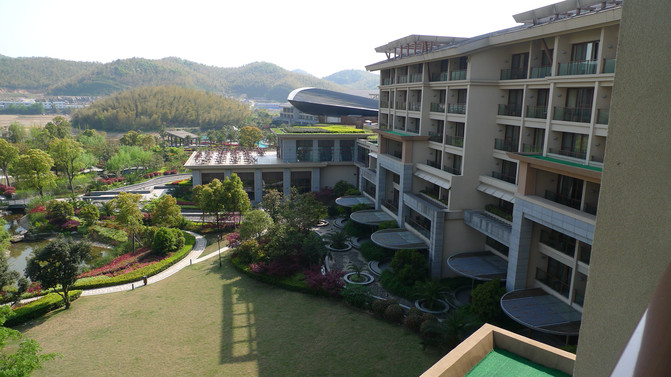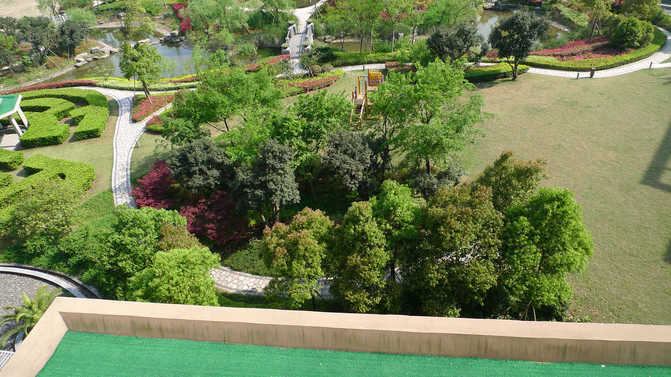 Kowloon Lake,
Next to Xiangshan Temple:
. The hotel is surrounded by mountains and rivers, and has a very natural environment.

Kaiyuan Ningbo Jiulonghu Resort has a total construction area of ​​60,000 square meters.
Hall grand style
Chinese and Western Restaurant
Hearty breakfast buffet

Spacious and bright floor
Comfortable elevator

Looking out the window in the guest room
It's a pity that Jiulong Lake is rebuilding: what you see is a beach.


Spacious and comfortable rooms
1 international conference center with 1,500 seats and 1,200 people
2 small and medium conference rooms. Gym and indoor swimming pool
And outdoor pool,

British and American billiards, table tennis, beauty salons, chess and cards, foot baths, SPA, children's playground, simulated golf, squash and other sports.

Kaiyuan Ningbo Jiulonghu Resort is strategically located 19 km from Zhenhai City. 329 National Road, Yucai Road to Jiulong Avenue in Jiulonghu Town, and you can walk for 30 minutes in the shadow of bamboo and wood. Ningbo Roundabout Expressway passes from the south side of Jiulong Lake, and the traffic is convenient.
Hotel facilities:
Wi-Fi in public areas, free parking
Common facilities include: Chinese restaurant, coffee shop, disabled room, safe deposit box at the front desk of the mall, ATM,
Event facilities include: KTV chess room, billiard room, table tennis room, indoor pool, squash room, fitness room, outdoor pool and foot bath.
Room facilities include: slippers desk, 24-hour hot water, minibar, ironing facilities, small refrigerator, bathrobe, bathtub, hairdryer and in-room safe
Surrounding facilities include: Dining: Blue Moon Valley Lobby Bar, Karacar Western Restaurant and Jinyuan Box.

Nearby attractions are: Zheng's Seventeen Room, which is a national 4A-level tourist attraction.
Documents and historical data prove that the Zhenhai Seventeen-Family Merchant in Zhenhai was one of the earliest business family groups in Ningbo.
The majority of the existing "Zheng's Seventeen Houses" were buildings from the Qianlong to Guangxu reigns of the Qing Dynasty. There are currently 335 households and 1024 people in the Zheng's house.
Zheng's seventeen room covers an area of ​​60,000 square meters, and the existing building area is more than 40,000 square meters. Today there are Hengde room, Hengxiang room, Sanfangtang room, Dazutang room, Houtang building, standing house, new house, Shifentou, Laolujia, Dalong, Dongnong, Houxinwu, Hegenyan, etc. There are more than 10 single- and multiple-entry polyester house courtyards in "Four Waters Returning to the Church", with two-story brick and wood structure. The house still retains the woodcut handwriting with the inscription "Qi Shi Yan Shi semi-springy" written by the Prince of Qing during the Qianlong reign. Among the villagers, there is a plaque for the "decree" on the stone archway of the Qing Dynasty.
Jiulong Lake belongs to Zhenhai District of Ningbo City.
The area is known as the "Zhejiang East Gateway". Zhenhai is located in the middle of the coastline of mainland China. The Yangtze River Delta is in the southern part of Hebei, the Zhoushan Archipelago in the east and the Ningshao Plain in the west.
Other peripheral tour information: "The following is the information of a boutique day tour launched by the Zhenhai District Tourism Bureau for your reference."
A: Ningbo Gang Cultural Tourism Zone (Jiangnan First School), Farmhouse Day Trip
Features of the line:
1. It integrates the wealth and wisdom culture of Jiangnan First School, the cultural landscape of the former residence of celebrities of Ningbo Gang, and the culture of business and Gang—Ningbo Gang Cultural Tourism Zone
2. "Ecology, culture, picking, gourmet" in one, ideal for leisure vacations, sightseeing and tourism-Zhenhai Leisure Agriculture Farmhouse
stroke:
Meet up at a designated place in the morning, drive to Zhuangshi, and visit the [Ningbo Gang Cultural Tourism Zone]. First, you can visit the Ningbo Gang Museum (free of charge, closed on Mondays), and then visit the Ningbo Gang celebrities Bao Yugang, Shao Yifu and others. Place-Jiangnan No. 1 School (ticket 50 yuan): The school culture in the late Qing Dynasty and the early Republic of China was concentrated, telling the legendary story of the cradle of Ningbo Gang. During the 14th and 15th of the first month, the first Ningbo dumplings will be held in the scenic area. At the cultural festival, tourists can participate in the activities of making dumplings and tasting dumplings, and experience the festival of reunion with Allah (the specific activities are subject to the day of the scenic spot). In the afternoon, they can choose to go to Zhenhai District for leisure agriculture [Farmhouse Fun]. Ecology, culture, strawberry picking (additional cost), gourmet food, all in one, ideal place for leisure, sightseeing and sightseeing. End the tour in the afternoon and return home
B: Zhaobaoshan Scenic Area and Farmhouse Day Trip
Features of the line:
1. A comprehensive tourist area that integrates natural scenery, cultural landscape, religion and culture, the gateway to eastern Zhejiang-Zhaobaoshan Scenic Area
2. "Ecology, culture, picking, gourmet" in one, ideal for leisure vacations, sightseeing and tourism-Zhenhai Leisure Agriculture Farmhouse
Tips:
Transit:
This is bus station 381.

Route 384: Departure Station: Ningbo Third Hospital
Route 985: Departure Station: Ningbo South Railway Station West Road
Route 381: Departure Station: Bus Zhuangshi Station
By car:
From Hangzhou Bay Bridge:
Exit from Fuhai Exit (via Guanhaiwei Toll Station), towards Longshan / Cidong Industrial Zone
Keep driving for 18.3 kilometers, turn right slightly into Cilong Middle Road (auxiliary road)
Drive along Cilong Middle Road (auxiliary road) for 0.7 kilometers, turn right into Changqiu Line 7 and drive along Changqiu Line for 29 meters, turn right into Changqiu Line 8 and continue along Changqiu Line for 2.9 kilometers. After about 200 meters across Hetou City Slight right to go for 3.7 kilometers and reach the end
Latest Room Information:
Deluxe Lake-view Room, 567 yuan, including two breakfast. Building area: 46 square meters
This article is reproduced by the editor of this website. The purpose of reprinting is to convey more information. It does not mean that this website agrees with its views and is responsible for its authenticity. If you are involved in the content, copyright and other issues, please contact this website within 30 days, we will delete the content as soon as possible! The copyright of this article belongs to the original author, and the content is the author's personal opinion. This site has the final interpretation of this statement.