Title one:
Under the reputation is actually difficult to deputy-"Han Han Huang Qiong Chuan"
Title two:
The price of sauce snail shells reported on the Internet: "Now Sichuan Restaurant 8 yuan, 10 yuan; 5 yuan 10 years ago; 10 years later, about 15 yuan."
-A pot of stir-fried snail shells at the restaurant in Zoumalou sold for 38 yuan. Is this the price after 30 years? -I want to ask.
--------------------------------------------
Picture 1: Lunch at Zhuangmalou Restaurant on October 28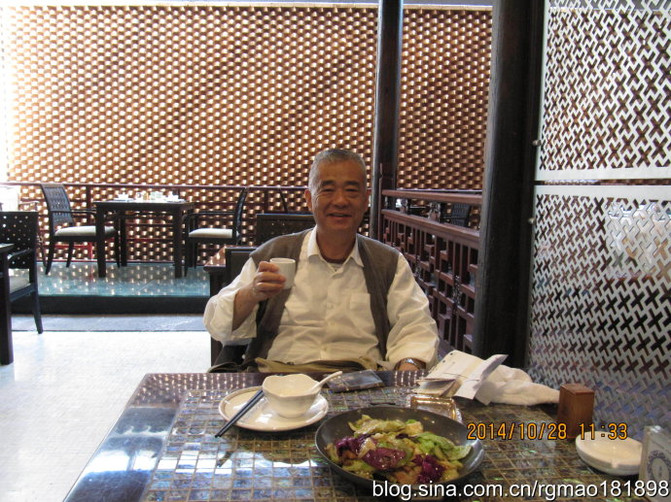 Picture 2: The restaurant is located in the "Cicheng Historical and Cultural Town Heritage Building Group"
Get off at the bus terminal in Cicheng, from the station → Confucian temple → Gujiaxiang → Chenghuang temple → Xianyang, all the way, no decent hotel.
Actually, I have a good idea about the location of this lunch in Cicheng-I went to Zhaomalou Fanzhuang.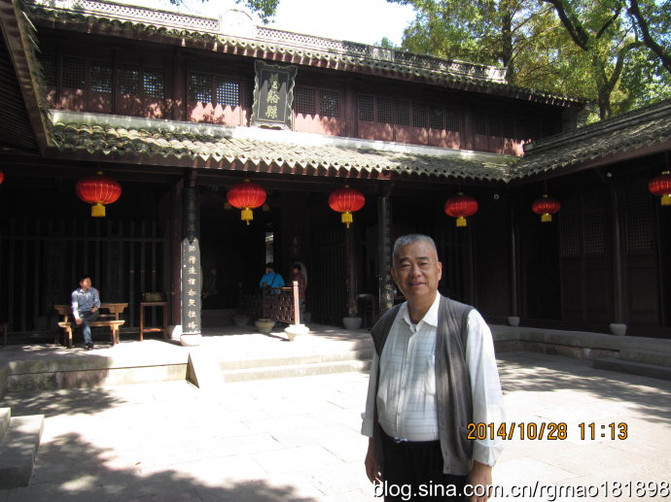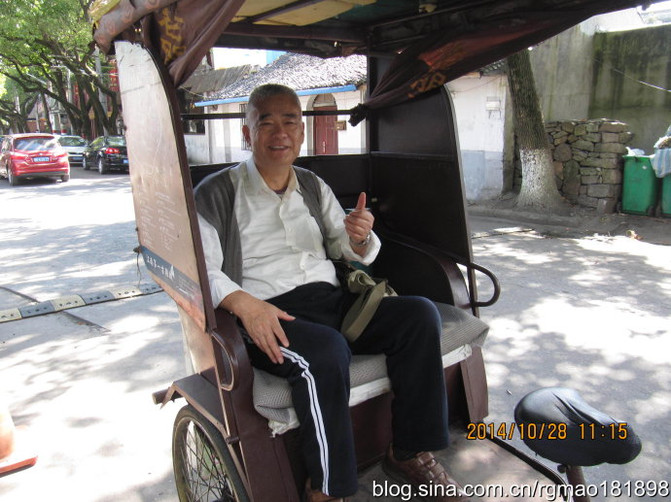 Before leaving for Ningbo on October 27, I prepared a lesson online and learned that Cicheng 's Zomalou Restaurant is well-known, and I have seen four-letter comments from netizens: cheap and good quality.
At 11:15 noon on October 28, after visiting the county cricket, I got on a tricycle outside the gate and went straight to the Malou. Sitting in the car, I just felt hungry.
-Mr. Old, please get off. (The tricycle driver told me)
-Sorry, the tricycle can't ride in. There is a way for you to go by yourself. (Added by the coachman)
Fortunately, not far from the restaurant, get out of the car and enter the moon gate. There is the word "Zou Ma Lou" on the lintel, followed by the glass-roofed promenade.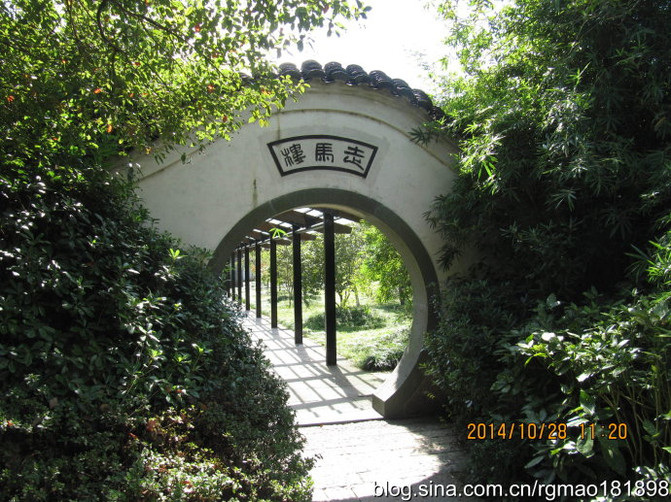 Zoumalou Fanzhuang was originally the former residence of the famous city of Cicheng, Ge Shenmu . At present, the house of Fanzhuang not only retains the pillars of the ancient buildings, but also cleverly adds modern elements. The first impression was good.

As soon as he was seated, the waiter brought a cup of tea and a hot towel. -It really feels like going home.
Little handsome boy brings the menu.
I don't want to touch the restaurant's menu. One is that I'm hungry. The other is that the restaurant's dirtiest is the a la carte menu, so I didn't open the menu.
-Let's have a snail shell in Cihu. (I casually say)
-Sauteed snail shells, 38 yuan per plate.
-Are you wrong? 38 yuan per snail? (I'm surprised)
-Mr. Old, I'm not wrong. You see, this, it says on it. (Little handsome guy is agile, and immediately flipped to the page of Luoluo)
-Haven't eaten such expensive snails.
-You are so old and have n't eaten snail shells? Just eat our Cihu Snail. (Little handsome guy obviously didn't hear the words "so expensive")
-I haven't eaten this-what-expensive snails! (This time, I pronounce the words " so expensive " clearly and accented)
-Oh, it's not expensive, it's the snail shell of Cihu. The average vegetable is more than 30 yuan. (Little handsome guy said)
-You go first, let me see the menu. (I had to pick up the menu and read it)
Just a few words, happened to turn to "baijiu", look at the price, take a breath.
At first, I thought that the dazzle was not clear. What about the 5-digit number?
Look at the situation carefully , and you know that there is no mistake: 30 years Maotai 500ml 22888 yuan / bottle.
I have also entered many high-end restaurants and restaurants, and it seems that I have not seen more than 20,000 yuan a bottle of white wine.

-Do you order more than 20,000 yuan a bottle of white wine? (Little handsome guy happens to be around, I ask)
-Yes, there are many people who want it?
-Isn't that before the eight regulations came out?
-Uh, uh ...
Hungry, at this moment, I felt a bit chill on my spine, and continued to browse the menu.
39 yuan of ginger slices / case;
25 yuan / case of peanuts;
Bacon with sausage 89 yuan / case
35 yuan / case
Chai stove radish 35 yuan / case
.........
At this moment, maybe my face has changed, maybe my face is revealed. An old gentleman came over and whispered to me in Ningbo dialect:
-This restaurant is not a place for ordinary people to consume. In the past, the minimum per capita consumption was 580 yuan, which was basically a place for public funds.
-You come here for dinner too?
-No, no, I came to Cihu to play, passing by this old house. (The old man answers)
-What's so good about the old house?
-After the Eighth Regulations of the Central Committee, Zoma Bridge was deserted. It used to be lively, but now it looks deserted.
The old man was very humorous, smiled at me, waved and left.
-The price of the restaurant is for those who eat public money! (Before leaving, the old man dropped another sentence)
-The price of the restaurant can only go up or down? (I think)
At this time, if you want to change a restaurant, it is impossible, because within two miles, there are no restaurants, even small roadside shops.
Because the business was deserted, the handsome guy stood beside him, waiting for my order.
-You go to your favor first, I think about it, and then call you. (A word sent him off)
When I enter a hotel, I am used to 150 yuan per capita consumption. This time, sitting in the Zhuangmaqiao restaurant, it was a bit difficult.
People of our age have a different concept of consumption than today's young people. They don't eat what they can afford, but value the value for money. I remember that many bosses in Hong Kong like to use buses to travel, and their consumption outlook is "value for money."
The 38 yuan Cihu snail wo n't eat it anymore, but four dishes: peanut rice / bacon sausage / old vegetable stem / firewood radish (mainly vegetables) will cost 184 yuan, plus beer And rice, 200 yuan last.
Over budget and value for money.
At this moment, my mind has undergone a subtle change. I was hungry now, and now I am no longer hungry. The original budget of 150 yuan was not intended to be implemented.
-Forget it, just do two different things. (I called the handsome guy)
-Which two?
-A 39 yuan fried cabbage, a 39 yuan plate of artemisia fried rice cake. Beer is also free.
The handsome guy led him in a whirlwind.
Maybe the business is deserted, the fried cabbage and wormwood rice cakes have been served.
I wonder if the officials have eaten fried cabbage or 39 yuan fried rice cakes in the restaurant. The cost of cabbage and rice cake is under 10 yuan.
The taste can only be written with the word "Shang Ke", and it can also fill the stomach.
After the meal, I sat in the seat and took out the "City Town Ancient Town Scenic Area Map", and found that " Zou Ma Lou Fan Zhuang " was awesome.
-Your restaurant is the first one in Cicheng. (I point the map and talk to the handsome guy)
-Yeah, business was good in the past, but it's worse now.
-Business will not be good unless public funds are eaten and drank again.
-Why?
-Zuma Maqiao's food is too expensive! (I bluntly)
-No, Mr. Old, come here to eat and say that the price is expensive. They are all elderly people like you. Young people never say expensive. (Handsome guy thinks it is right)
-No, our young people also think the dishes here are too expensive! (Unexpectedly, the oblique stab kills Cheng to bite gold. A couple at the adjacent table interjected loudly)
-You see, the two of us ordered four dishes and one soup, which cost more than RMB 350. (Man said)
-In our Shanghai, up to 150 yuan. (Female said)
-Isn't it so cheap in Shanghai? (The handsome guy is doubtful)
-The outside world is huge. There are many markets you haven't seen. (I said)
As I said, I took out two bills from my wallet when I went to Hangzhou to appreciate the guinea pigs this year. On October 27th and 28th, I had a statement to eat at the Hangzhou restaurant.
-Look, I dine at Hangzhou Restaurant, which cost 65 yuan and 71 yuan, with amaranth, vegetables, and Qiandao Lake beer.
After the little handsome guy looked, the little couple went on.
-- what? so cheap! (Little handsome guy is exposed to embarrassment under the attack of couple and me)
-The Hangzhou restaurant is a century-old restaurant. You are only a century-old house. (Can't help but I'm silent for him)
-You show this bill to your boss. (Little couple unanimously)
-Forget it, the boss won't know it.
The following are the payment vouchers for the restaurant at Zomama Lou (Time 2014-10-28): one fried cabbage, two fried rice cakes, RMB 78.
-A century-old shop, a century-old house! -Sir, you are so humorous!
-Zhaomaqiao is a black shop! (A little couple, a little bit angry)
-No, it's not a black shop. The environment here is good.
The little handsome guy explained that before the little handsome guy finished talking, the beauties uttered:
-Do the environment and Ming and Qing architecture count towards your costs?
The little handsome man was speechless.
In the restaurant, I saw a "golden signboard" by which the restaurant raised prices:
The environment of Zhaomalou Restaurant is really good . Out of the restaurant, across the promenade, across the bamboo forest, Cihu is facing you. Cihu Lake under the autumn sun, blue water and picturesque blue sky.
Back at home, Baidu's "Zou Ma Lou" was intended to verify whether my impression of Zou Ma Bridge was biased. The results prove that I feel good, and the travel notes of "Zou Ma Lou Fan Zhuang" are correct.
See online reviews:
1 / The environment is good, the old garden house, the dishes are rich and delicious, and the prices are not too close to the people. Service was average.
2 / The taste is good and the price is expensive, but occasionally you can eat it
3 / Been to several times, the distance is long, the environment is good, the dishes are large, the service is average, the price is too expensive, some special dishes are still worth trying
4 / Eat occasionally, it feels great! It's more perfect to drop the price a little bit.
5 / Been here very early, the location is not easy to find, but the dishes are very special and the price is a bit expensive.
6 / Their dishes are not bad. It costs 2,000 or 1500 for each box. I forgot that it was paid by a friend. It is not cheap. It feels like a compulsory consumption.
[First draft in the morning of November 8th]
This article is reproduced by the editor of this website. The purpose of reprinting is to convey more information. It does not mean that this website agrees with its views and is responsible for its authenticity. If you are involved in the content, copyright and other issues, please contact this website within 30 days, we will delete the content as soon as possible! The copyright of this article belongs to the original author, and the content is the author's personal opinion. This site has the final interpretation of this statement.